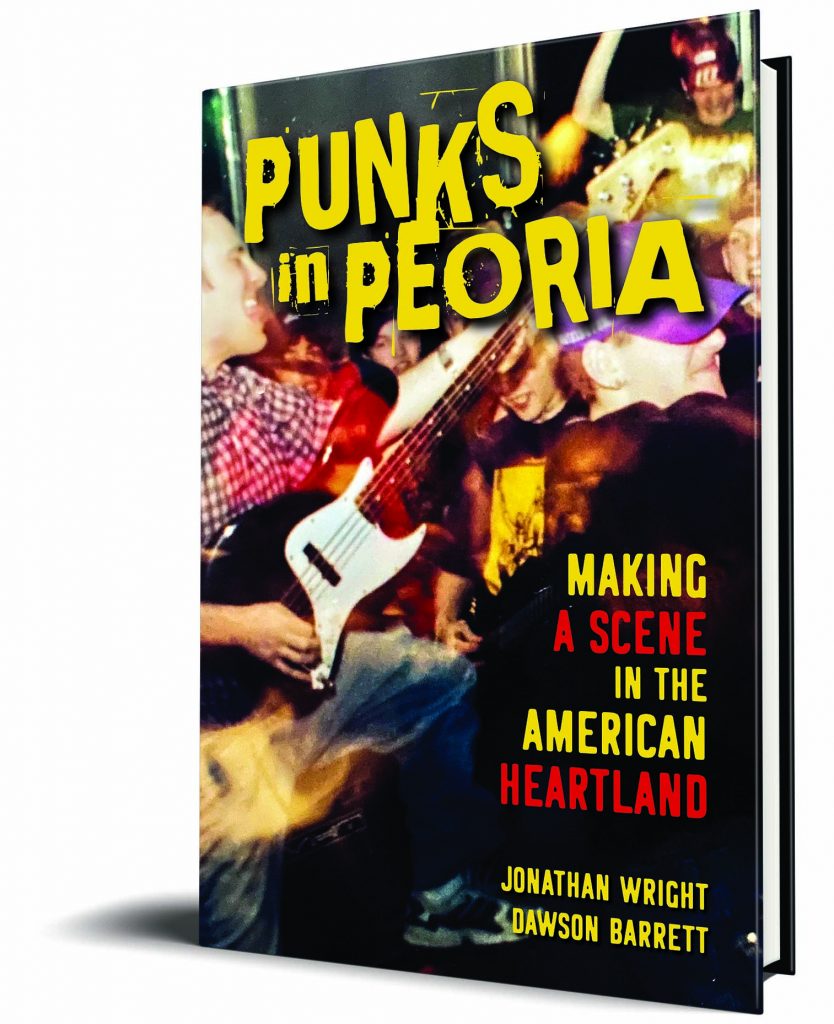 We recently talked to co-authors Jonathan Wright and Dawson Barrett about their new book, Punks in Peoria: Making a Scene in the American Heartland.
Q: Why did you decide to write this book?
DAWSON: Though the book is not really autobiographical, Jonathan and I were both deeply involved in punk rock in Peoria as young people, so it was subject matter near to our hearts. We knew that there were stories to tell. I think what kept us going, though, was continuing to discover so much about people we didn't know, who were doing some similar things long before, and after, we were. Punk rock scenes typically experience quick turn-over — perhaps a few years of peak participation for most people. That gives a pretty limited perspective. The longer view of the book has really shifted my understanding of Peoria and of what I was doing in my teen years.
JONATHAN: When I was promoting shows in my youth, I never would have imagined a book would come out of it! But I did believe that what we were doing was important – at least in some way, at least to some of us. The research and discovery that guided this project was the product of that same passion and commitment. This book is a celebration of "Anytown U.S.A." – an acknowledgement that great art can come from the unlikeliest of places, and that the stories of small towns are just as alive and meaningful and significant as the ones that everybody knows.
Q: Who were your biggest influences?
DAWSON: One of the things that drove me was reflecting on the punk community that I encountered as a young person: the people who organized shows and put out records – or who fed me or let me sleep on their floor when I was in touring bands. Like so many other important things (education, for example), punk rock relies on vast amounts of often thankless, unpaid or underpaid labor. It's a group effort that is a sort of collective gift to one another. Throughout this project, I have had on my mind the many people who provided that time and labor to my benefit. A few of them – including Jonathan – are even in the book!
JONATHAN: We are indebted and grateful for the kindness and generosity of our friends in the Peoria punk diaspora. We interviewed more than 70 people at length, solicited a public survey, and cajoled many others for photos, flyers and stories – then bugged them again with questions, permission forms, and more questions. As storytellers, our biggest influence was not so much a "who" as a "what"—the collective work of many, as opposed to any one individual. We wanted to create something that readers could enjoy even if they have never been to Peoria, weren't in "the scene," or are not familiar with any of the bands or musicians.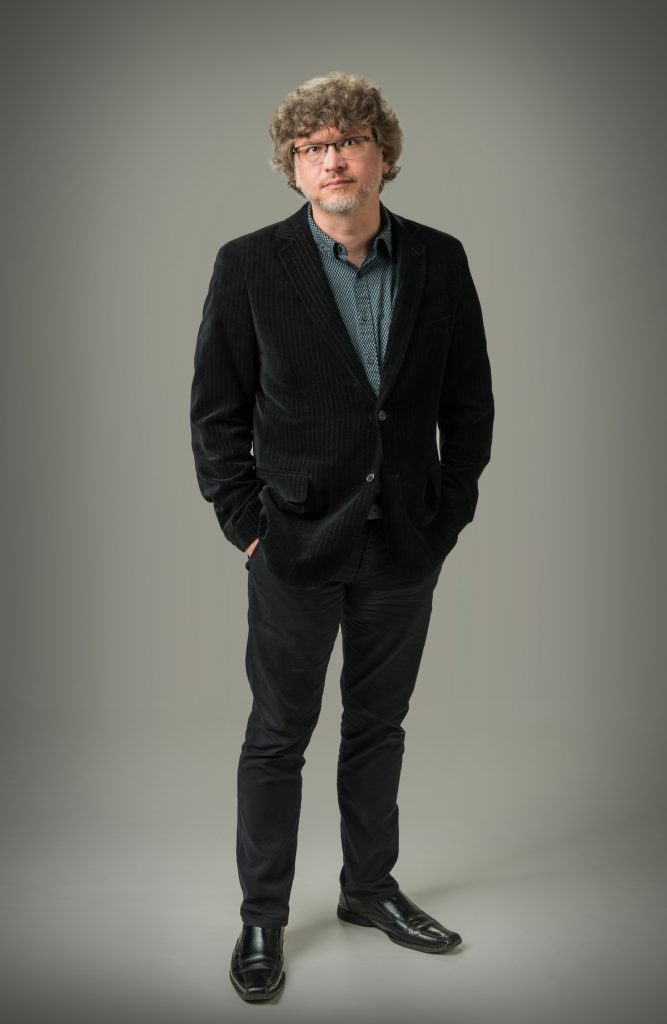 Q: What is the most interesting discovery you made while researching and writing your book?
DAWSON: One of the "punk" venues we discuss (and where I myself played and witnessed some very wild shows in the late 1990s) was a quaint, aging cabin outside of Morton, Illinois. My favorite research discovery was that Jim Thorpe – Olympic gold medalist in the decathlon and pentathlon; professional football, basketball, and baseball player – had been the guest speaker at a youth sports banquet in that same small room a half-century earlier.
JONATHAN: There were so many discoveries – especially in the early stages when we were still trying to determine the scope of the book. Prior to our research, I knew virtually nothing about punk rock in Peoria in the 1980s – despite having been immersed in the scene just a few years later. Learning that the MC5 once played in Peoria was nothing short of a revelation. I also treasure the moment I came across a headline in Jet magazine about a 1962 Booker T & the MGs gig in Peoria, where a major brawl ensued when the band failed to show up. This Peoria non-show literally made national news! Many similar incidents would play out in the punk scene some 30 years later.
Q: What myths do you hope your book will dispel or what do you hope your book will help readers unlearn?
DAWSON: I think one of the big myths at the heart of US society is the existence of a legitimate meritocracy – that the many hierarchies of wealth, fame, and power all around us are important, natural, and unquestionable. Our bosses and political leaders are in charge because they deserve to be in charge, for example. Or famous writers, musicians, and other artists are popular because they are objectively "the best." To the contrary, I think this story shows that even in a middle-of-the-road city like Peoria, there were dozens of wonderful and interesting bands throughout the 1980s and 1990s. Things like sales rankings and industry awards present a hollow, market-obsessed view of the world that completely misses how great and fun and creative these bands were. DIY punk rock often had a sort of anti-authoritarian message, but its very existence made a more basic argument, that anyone can – and should – create art for its own sake. I think that's incredibly important.
JONATHAN: I concur and would add that, in spite of punk's anti-authoritarian message, most of us who came up in the Peoria scene are more attuned to the values and institutions that build community. We took those DIY principles –working together and making things happen for the common good – and now apply them in our lives as adults.
Q: What is the most important idea you hope readers will take away from your book?
DAWSON: To me, the big idea of Punks in Peoria is that you can make something out of (almost) nothing. Peoria did not have a proper music venue. The young people in this book had to re-purpose local banquet halls, after-hours restaurants, and church basements to build a music scene. They were constantly scrounging, scheming, and compromising. It was an uphill struggle, and it was messy, but together they more or less made the case that we can build the world we want to live in, even when it seems like we're starting from scratch.
JONATHAN: And it can happen anywhere.
Q: What do you like to read/watch/or listen to for fun?
DAWSON: My media consumption has been all over the place during the pandemic, but I've been listening to Idles' Joy as an Act of Resistance album and Hum's Inlet almost daily. I have struggled to stay focused on most books, but I recently enjoyed Ballad of An American, a short graphic novel about Paul Robeson, and Kent State, also a graphic novel, about the 1970 shootings.
JONATHAN: I own some 9,000 vinyl records spanning the gamut of musical genres – in addition to my prodigious digital listening habits — so it's hard to single anything out. I'll say that my favorite record of 2020 was Zeal & Ardor's "Wake of a Nation" EP, and I have leaned heavily on the familiar comforts of Bruce Springsteen over the last year. I recently read David Byrne's How Music Works and Bill Brewster's Last Night a DJ Saved My Life, and I am a big fan of Love Goes to Buildings on Fire: Five Years in New York That Changed Music Forever by Will Hermes. Catch me on a different day and my answer would be entirely different.
---