On October 7, 2004, the National Register of Historic Places added the Farnsworth House, located near Plano, to its list of significant locales.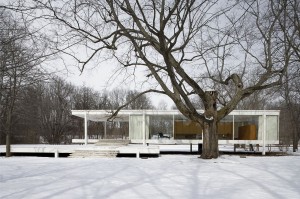 Beautiful, yet a challenge to human habitation, the Farnsworth House won immediate plaudits when Ludwig Mies van der Rohe handed it over to owner Edith Farnsworth in 1951. The house, a classic example of the International Style of architecture, took shape on an estate once owned by Robert McCormick, feisty proprietor of the Chicago Tribune. Today it still strikes the eye with its floor-to-ceiling glass and white slabs. From the inside, the windows jarringly place the house within its outdoor surroundings. The interior exists as what feels like a single giant room, with different areas subtly defined not by walls but other elements, and just two blocks interrupting the space. One block kept a wardrobe, the other the bathroom and furnace room.
Though the finished product was a thing of beauty, the final phase of construction turned ugly indeed. Farnsworth and van der Rohe fell out over the money paid for materials and other construction costs. Lawsuits flew in both directions and proxies ended up finishing the house according to van der Rohe's plans. While the architect prevailed in the courts, the fracas damaged his reputation for a time. Farnsworth, meanwhile, used the house as a weekend getaway while rubbernecking  admirers of minimalism, Bauhaus, Modernism, and International Style visited in droves. In 2013, Lego released its plastic brick version of the Farnsworth House.