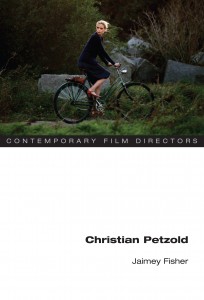 In Fall 2013, the University of Illinois Press will publish the first book on German director Christian Petzold in English. Author Jaimey Fisher will introduce Petzold's latest film, Barbara, the opening film of the 17th Annual Berlin & Beyond Film Festival on September 27 at the Castro Theatre in San Francisco.
Barbara (2012) was recently named Germany's submission for the Oscar for best foreign-language film (it also won the Silver Bear at the 2012 Berlin Film Festival for best director).  The film, set in East Germany in 1980, is a historical drama that extends Petzold's interest in a determined female protagonist moving, and moved, along a political and economic precipice.  In what seems a pointed response to other recent films about East Germany, Petzold offers a microscopic, and micropolitical, examination engaged with the experience of different political systems, those systems' ideas as well as modes of existence and above all work.
Over the past fifteen years and across some ten feature films, Christian Petzold has established himself as the most critically celebrated director in Germany, probably the most acclaimed director there since Rainer Werner Fassbinder, Werner Herzog, and Wim Wenders. With his reputation established in Europe and rising elsewhere, Fisher's forthcoming book analyzes his cinema's unique negotiation of art and popular genre
cinema.  This volume investigates how Petzold explores a variety of popular genres, including horror, film noir, and melodrama. He explores these popular genres while injecting them with themes like terrorism, globalization, and immigration, central issues for European art cinema. The volume also includes a long, original interview with the director about his work.
Jaimey Fisher is Associate Professor of German and Cinema and Technocultural Studies as well as Director of Cinema and Technocultural Studies at the University of California, Davis.  He is the author of Disciplining German: Youth, Reeducation, and Reconstruction after the Second World War (2007).
Click here for more information on the University of Illinois Press's Contemporary Film Directors series.