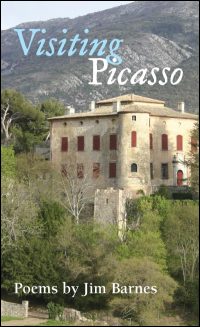 Jim Barnes, author of the recent book of poems Visiting Picasso, was appointed Poet Laureate of Oklahoma by Governor Brad Henry.
From the January 15, 2009, press release:
The Oklahoma Humanities Council announced today that Governor Brad Henry has appointed distinguished author Jim Weaver McKown Barnes as State Poet Laureate for 2009 through 2010. The Humanities Council facilitates the poet laureate selection committee, which reviews statewide nominations on behalf of the governor, and coordinates the activities and appearances of the poet laureate throughout his/her term.
"It was my privilege to name Jim Barnes as Oklahoma's Poet Laureate," said Governor Henry. "His unique artistic vision, considerable creativity, and deeply moving works made him a natural choice. Jim Barnes is an accomplished poet and teacher who has done much to expand the cultural horizons of Oklahomans and all Americans."
Jim Barnes, of Choctaw and Welsh ancestry, grew up in Summerfield, Oklahoma. His non-fiction prose book, On Native Ground: Memoirs and Impressions, reflects Oklahoma and Native cultures and won the American Book Award in 1998. He has authored several volumes of poetry, including The Sawdust War: Poems, which won the Oklahoma Book Award in 1993; Paris: Poems; On a Wing of the Sun: Three Volumes of Poetry; and his most recent work, Visiting Picasso (University of Illinois Press, 2007).
On learning of his appointment, Barnes remarked: "I am indeed honored and delighted to accept the Poet Laureateship of Oklahoma. I am honored to serve my home state in the cause of literacy and literature, and I am delighted to think, with the appointment as Poet Laureate, that perhaps all my years of living in the realm of poetry have not been outside the boundaries of understanding. No art is more important to me than poetry, for poetry makes everything happen."
Barnes received his master's and doctoral degrees in Comparative Literature from the University of Arkansas. He served as professor and writer-in-residence at Truman State University for 33 years. He then served as Distinguished Professor of English and Creative Writing at Brigham Young University. He was the founding editor of the Chariton Review Press and is currently poetry editor for Truman State University Press and editor of the international journal The Chariton Review.
OHC Executive Director Ann Thompson said that the Council is eager to re-introduce Oklahoma citizens to Jim Barnes and his work. "Jim's talent, teaching experience, and ability to engage with the public make him an enormous asset to our state," said Thompson. "We have no doubt that he will further the governor's and the Council's efforts to engage people with poetry." Thompson also noted that the Council will post some of Barnes' published poetry on its website: http://www.okhumanitiescouncil.org/.
"As Oklahoma's Poet Laureate, Jim Barnes has the task of broadening understanding and appreciation of poetry," said Governor Henry. "His work is a testament to the strong cultural fabric of Oklahoma and an inspiration for others to follow."