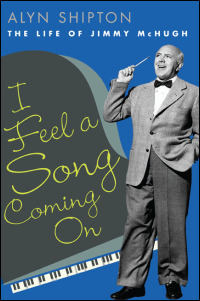 On October 5, 2009 we will publish I Feel a Song Coming On, the first biography of great American songwriter Jimmy McHugh. That week, Barnes & Noble Lincoln Triangle (NYC) and Michael Feinstein will help us celebrate.
Special events:
Carnegie Hall
Michael Feinstein, with special guests Noah Racey and Wesla Whitfield, in "Standard Time With Michael Feinstein: A Lovely Way to Spend an Evening… The songs of Jimmy McHugh." Wednesday, October 7, 7:30 pm , at Zankel Hall, Carnegie Hall.
Barnes & Noble Lincoln Triangle
Author Alyn Shipton, McHugh's grandson Jimmy McHugh III, jazz vocalist Wesla Whitfield, and host Tom Santopietro. Whitfield will perform from the McHugh Songbook. Shipton will read excerpts and discuss the composer's life and music. Friday, October 9, 7:30 pm, at Barnes & Noble Lincoln Triangle, Broadway and 66th St., Manhattan.