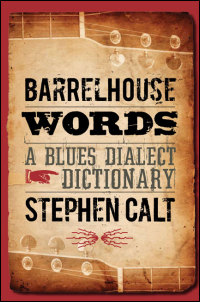 On November 2, 2009, we will publish Barrelhouse Words: A Blues Dialect Dictionary by Stephen Calt, which has been in the works since the late 1960s. Periodically, between now and the book's official release, I'll post an entry from Barrelhouse Words. First up, a familiar phrase:
makin' whoopee
Undertaker been here an' gone, I give him your heights an' size
You'll be makin' whoopee with the devil, in hell tomorrow night.
—King Solomon Hill, "Whoopee Blues," 1932
A 1920s vogue term for carousing, particularly at parties and with the opposite sex, popularized among white youth by the Gus Kahn and Walter Donaldson Tin Pan Alley hit, "Makin' Whoopee" (1928). It was afterward associated with gossip columnist Walter Winchell, who claimed to have coined it.