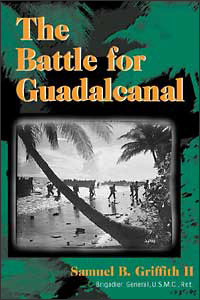 Sometimes a backlist title gains new relevance. HBO's new mega miniseries The Pacific, produced by Steven Spielberg and Tom Hanks, focuses on the Pacific Theater of Operations during World War II, including the events at Guadalcanal. In 2000 we issued a paperback edition of The Battle for Guadalcanal by Samual B. Griffith II that was originally published in 1963. With Google searches and fresh publicity, The Battle for Guadalcanal is now easier to find.
Here's an excerpt from Chapter 10, "So Precariously Held":
If Kawaguchi's beaten and exhausted troops hoped to rest and refresh themselves in peaceful sylvan glades west of the Matanikau they were mistaken, for the Japanese there had no food to give away. Colonel Oka, who had landed with headquarters of his One Hundred Twenty-fourth Infantry plus two weakened battalions, had only sufficient rations to tide his command over until Kawaguchi captured Henderson. After the surrender, the colonel naturally expected his men to subsist on American rice, or whatever marines at in lieu of it. Provisions had regularly been put ashore at Kamimbo Bay, but the colonel was a long way—almost fifty miles by trail—from the supply center there. Between the rice at Kamimbo and his troops were some 2000 members of the 8th Base Force, who had fled empty-handed from the vicinity of the airfield on August 7. Detachments of various Naval Landing Forces increased by another 700 the hungry Japanese population on the west end of Guadalcanal.
However, things had unaccountably gone wrong; the "marooned" enemy still clung obstinately to the airstrip. With his own command on short rations, Oka could not feed the unwelcome visitors who were descending upon him. Scores of those wounded at the ridge were malarial; hundreds suffered from dysentery; all were enfeebled from their ordeal in the pitiless jungle. Oka, responsible for the defense of the river line, had no choice but to push them all to the west as fast as they stumbled into his area. At Kokumbona, at Tassafaronga, at Cape Esperance, there were doctors, rice and quinine.
One diarist "never dreamed" that coconuts would save his life "in this awful place." His fellow veterans were "nothing but skin and bones"; "pale wild men." He had smoked his last cigarette; there were no matches; he wandered about "with a lit fire cord" begging crumbs of tobacco from more frugal friends. Every morning bombing and strafing planes were overhead; during most daylight hours he huddled in a sodden foxhole. "Although I have seen our planes they seem to have no effect. The mastery of the sea and air is completely in the enemy's hands. I have become like a primitive man." This disconsolate soldier no doubt derived small pleasure from Tokyo broadcasts which described his adversaries as slowly dying of starvation while in palsied fear they awaited the "righteous bayonets" destined soon to piece their vitals.