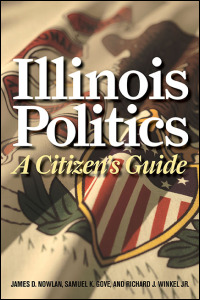 James Nowlan and Richard Winkel, co-authors of the new book Illinois Politics: A Citizens Guide, will participate in the Illini Union Bookstore's summer literary fest in Champaign.
On Tuesday, July 13, 12:00-1:00 p.m. Nowlan and Winkel will be interviewed by WILL radio host David Inge on a panel about Illinois' current political landscape and the origins of the state's political system.
The Illini Union Bookstore will host this public event in the Authors Corner on the second floor of the Illini Union Bookstore at the corner of Wright and Daniel Streets in Champaign.