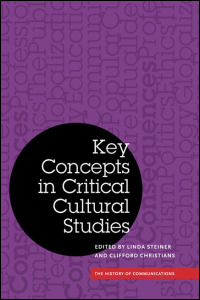 Key Concepts in Critical Cultural Studies, edited by Linda Steiner and Clifford Christians, has been awarded the James W. Carey Research Award from the Carl Couch Center. The award recognizes works on topics that have been central to Carey's scholarship, with submissions focusing on technology, time, space and communications, the nature of public life, and the relation between journalism and popular culture.
The award will be presented at this year's AEJMC conference.
Congratulations to Linda Steiner, Clifford Christians, and all of the contributors to this volume in the University of Illinois Press's History of Communication series.