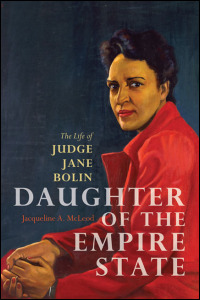 On December 5, 2011, we will publish Daughter of the Empire State: The Life of Judge Jane Bolin, a biography of the nation's first African American woman judge.  Author Jacqueline A. McLeod, an associate professor of history and African & African American studies at Metropolitan State College of Denver, answers questions about Judge Bolin and her career.
Q:  Jane Matilda Bolin was the nation's first African American woman judge.  Is there any one person who paved the way for her success?
A:  The argument can be made that every Black woman lawyer before Jane Bolin, beginning with Charlotte E. Ray in 1872, paved the way for Bolin's eventual rise to the bench.  But more immediately, her father Gaius Charles Bolin (a lawyer and someone she hails as her role model) has to be singled out.
Q:  In the 1920s and 1930s, what was the greater impediment to Jane Bolin's career advancement, her race or gender?
A:  I would argue that racial discrimination was the greater impediment to Bolin's career advancement, but she has said that it was gender discrimination, as have other Black women lawyers.  However, in the case of Bolin, the intersectionality of race, class, and gender may have conspired to complicate how we understand, and how she experienced the circumstances of her racial reality in the 1920s and 1930s.
Q:   In 1936 she ran (unsuccessfully) for the New York State Assembly as a Republican.  Why did she run as a Republican?
A:  Bolin's run as a Republican in 1936 was tied to the reform politics and anti-Tammany stance of the Party.  In addition, by 1936, Black loyalty to the Democratic Party, which had brought economic relief from the Depression, had not shifted solidly.
Q:  Did she have any affiliation with the NAACP?
A:  Did she!  Jane Bolin grew up reading the Crisis, the organ of the NAACP, and became a founding member of the Poughkeepsie Branch of the NAACP, before joining and becoming second vice-president of the New York Branch.  She was later elected to the Board of Directors of the National Office of the NAACP, and in 1950 resigned as a vice-president amid some controversy that played out on the pages of the Black press.
Q:  What interests did she have outside of the courts?
A:  Jane Bolin's interests outside of the courts were very much tied to a philosophy of integration that she exhibited on the bench.  She fought against every act of segregation.  This commitment to integration led her to found, with Eleanor Roosevelt, the Wiltwyck School for Boys in upstate New York.
Q:  What most surprised you about Jane Bolin in your research of the book?
A:  I was most surprised to learn that she had a white housekeeper (German immigrant) at a time when the artificial markers of color/race would have suggested otherwise.