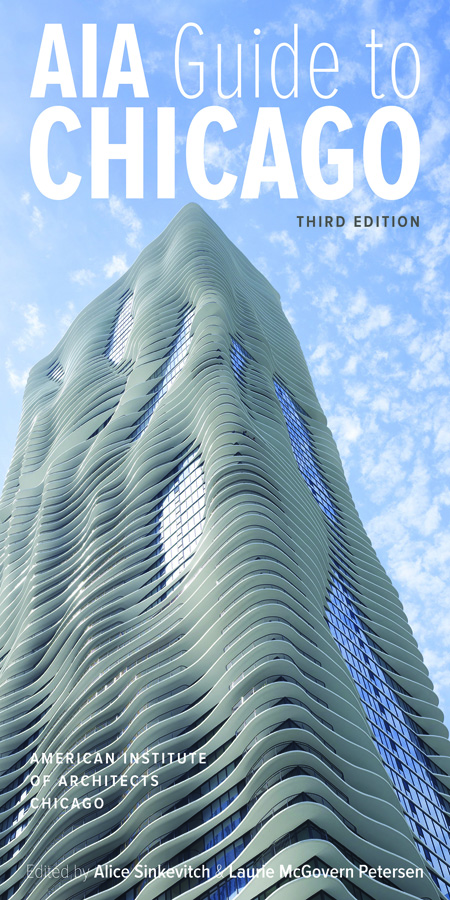 You night think a skyline would maintain a certain consistency, an unchanging nature that reflected the fact that building a skyscraper is one of humanity's more complex undertakings. Yet recent newsicles tell us that the most storied skyline of all, Chicago's, will change and change again in the coming years as visionary architects and the billionaire real estate corporations who love them put up wondrous new buildings.
Not surprisingly, the people brainstorming these future classics figure prominently in the UIP's AIA Guide to Chicago, Third Edition, the book for rubberneckers and stair-climbers determined to absorb the Windy City vibe beyond pizza and thyroidal metallic beans.
Jeanne Gang, the woman behind the building that graces the AIA Guide cover and pages 31-32 inside the book, will soon return with a three-high rise complex on East Wacker Drive. The 1,100 foot tower will vault the blue-green glass creation into the pantheon of tallest buildings in the city.
The Kennedy family, meanwhile, is applying some of its bootlegging fortune to erect a towering threesome of structures at Wolf Point. University of Illinois alum César Pelli is back to do the honors. Already the maestro behind the 50-story building at 181 West Madison (AIA Guide page 85) and DePaul University's new Theater School (AIA Guide page 202), Pelli will put now his print on that place where the branches of the Chicago River come together (sneak preview on AIA Guide page 89). Kayak a bit south and you can already see the west tower going up. A 900-foot south tower waits on the drawing board.
The ever-growing South Loop will also be in on the action. Rafael Viñoly, designer of everything from children's museums to airports, is an AIA Guide up-and-comer. His building at the University of Chicago campus features on pages 444 and 447 of the Guide. But Viñoly is not content. Soon he plans to put up 76 stories of residential and retail on Roosevelt Road. A work in progress, the site may end up being two towers, and the famed Uruguayan promises "not just an architectural idea, but an urban design idea."