Influential architect Francis Barry Byrne was born on December 19, 1883.
Born and raised in Chicago, Byrne worked with Frank Lloyd Wright as a member of the group of architects known as the Prairie School.
After the demise of the Prairie School, Byrne branched out on his own and developed a more personal style.
In his book The Architecture of Barry Byrne, Vincent L. Michael charts the path of Byrne's work, highlighting its distinctive features while discussing the cultural conditions that kept Byrne in the shadows of his more famous contemporaries.
Byrne lacked the architectural ego of his mentor Wright and believed true architecture was intrinsically humble, concentrating for much of his career on Catholic churches and schools throughout North America, many of them now considered landmarks.
A dedicated modernist who rejected historical mannerisms and celebrated contemporary materials and processes, Byrne was also a devoted Catholic, progressively participating in the liturgical reform movement from the 1920s until his death. In his practice his modernism and Catholicism came together, revolutionizing the ground plans of Catholic churches in anticipation of the reforms of Vatican II forty years later.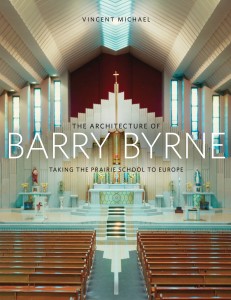 Top photo: Christ the King Church interior, Tulsa, Oklahoma, (1926).  Photograph by Felicity Rich, 2008