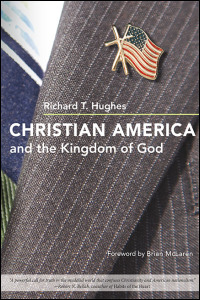 The Huffington Post just published the first of a 4-part series by Richard Hughes based on his book Christian America and the Kingdom of God.
The Christian Right in Context, Part 1: The Long View:
"The Christian Right stands at the heart of our current crisis since, for 30 years and more, the Christian Right has so successfully eaten away at the core, bedrock values that shaped this nation at its founding.
To advance this argument, of course, is to advance an irony, since the Christian Right has claimed from its inception that others — especially liberals, secularists and humanists — were eroding the values of the nation that they sought to affirm and protect."
*****
Richard T. Hughes is Senior Fellow in the Ernest L. Boyer Center and Distinguished Professor of Religion at Messiah College in Grantham, Pennsylvania, and author or editor of more than a dozen books, including Myths America Lives By and How Christian Faith Can Sustain the Life of the Mind.