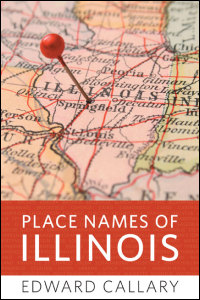 We just received finished copies of Edward Callary's new book Place Names of Illinois. The publication date is November 3, 2008, and every weekday leading up to publication I will post one of the nearly 3,000 entries from this vital regional reference. Today, I start with the obvious:
Champaign. County, City (1861, 1833). Created Feb. 20, 1833, from Vermilion County. The act creating Champaign County was introduced and seen through the state legislature by Sen. John W. Vance, who chose the names of Champaign and Urbana for his former home, Champaign County, Ohio (apparently named directly for the French province of Champagne) and its seat, Urbana. The city of Champaign was platted in 1853 as West Urbana, taking its name from the Illinois Central station in Urbana. The name was changed to Champaign in 1860. From Latin campagne (field, plain) (Bateman and Selby, eds., Historical Encylopedia of Illinois and History of Champaign County, 807; Johnson, Medicine in Champaign County, 64). Post office established March 2, 1855, as West Urbana; changed to Champaign April 28, 1860.
*****
Special first day bonus entry:
Herr Gott's Eck. Monroe. A strip of land in the extreme eastern part of the county, between Richland Creek and the Okaw and Kaskaskia rivers. German for "Mr. Gott's Corner," perhaps named for a land owner named Gott (Klein, ed., Arrowheads to Aerojets, 587).