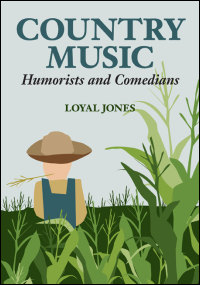 When I received an advance copy of my book, I first thought of James "Goober" Buchanan, who had written me recently at age 100 to say he hoped to live to see a copy. Mr. Buchanan, who had done music and comedy for medicine, minstrel, and vaudeville shows, repertory theater, and finally country music venues, a warm-hearted, gregarious, and very funny man, was one of my best sources of information about the world of entertainment. He wrote me numerous detailed letters about his experiences and the people he had worked with—such as Smiley Burnette, Pat Buttram, Tex Ritter, Lawrence and Rod Brasfield, Minnie Pearl, Ferlin Husky, Porter Wagoner, Lulu Belle Wiseman, and June Carter—who, with him, had gladdened the hearts of thousands of audiences over most of the twentieth century, and how they had shamelessly stolen material from one another. Alas, he died just 57 minutes before his 101st birthday. I grieve for him but rejoice in his active life and generous spirit and am thankful that I had the chance to memorialize him in this book.
I rejoice also in knowing that there are other old-timers in the music and humor business still with us and who will have a chance to see what I have written about them. I remember specifically two who were also helpful to me, Doc Williams, now 96, who at WWVA's "Mountaineer Jamboree" for some 60 years headed a band that always did comedy, and Wade Mainer, now 101, who performed at many radio stations with Mainer's Mountaineers and Sons of the Mountaineers and with his wife Julia and is still, with Julia, doing occasional folk and bluegrass festivals. I'm also glad that many more of the humorists whom I profiled are still out there and still evoking that most wonderful human thing—laughter.
*****
Loyal Jones is the author of nine books and dozens of articles on Appalachian culture. His new book, Country Music Humorists and Comedians, will be published November 3, 2008.