In the publishing game, "backlist" refers to books that have been published and had their time at the forefront of marketing and publicity efforts. (Books in that glittery phase of life are called "frontlist.")
A backlist book does more than sit in a warehouse. With luck, it finds a readership that steadily grows it into a title with legs, with a long lifetime, in other words, a perennial that provides the important income necessary to continue publishing the sexy frontlist. All hail the circle of life!
Finding such a steady readership represents something of a grail, however. Despite the hopes and dreams and phone calls, no press can transform every one of its properties into an ongoing winner. That said, certain events do help:
A press as venerable as the University of Illinois Press possesses backlist titles that fell off the radar over the decades. Shifting attitudes relegated Fundamentals of Spontaneous Generation to obscurity, while film studies titles like George Lucas: More or Less Competent Filmmaker are clearly out of step with modern-day scholarship/common sense. As we explore below, a recent run through the press library can reveal books that unjustly gather dust rather than backlist orders.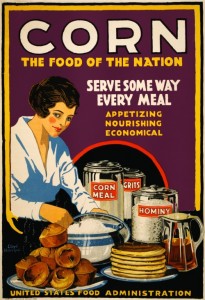 Corn: The Enemy Within, by Americus Banners
We all remember the people who insisted fluoridated water was part of a communist/Illuminati/government mind-control conspiracy. But the zeitgeist forgets that Americans once believed an important foodstuff bred transgressive behavior that seemed to threaten the very social order of the postwar world. As Time put it, "Corn threatens to turn our young into a tribe of cardigan-wearing miscreants overindulging in activities like scooter-riding and listening to Perry Como records." The UIP turned a spotlight on the problem. "A wake-up call for a generation of parents made virtuous by Depression-era deprivation and a world where everything was still in black and white." —Look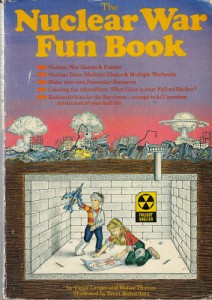 The Nuclear War Fun Book
Academic presses covered the Cold War from its earliest days, and the UIP was no exception. In The Nuclear War Fun Book, contributors from across a range of disciplines provide the coloring pages, word jumbles, and the Hidden Picture brain-teasers that opened young minds and inspired the STEM-centered educational milieu of today. Draw all the signs of radiation sickness. Memorize the member nations of NATO. Help Richard Nixon find his way to China. Circle which CIA-backed dictator is not like the others. It's all here, an essential era of history done in thick black lines and as suitable for crayons as the SALT treaty.

The Complete Ballad of the Green Berets Reader, by R.D. Taylor
In 1966, Staff Sergeant Barry Sadler found a country bitterly divided over a war, and divided it further. His epic "Ballad of the Green Berets" was a martial musical salute to the Special Forces sculpted in drums, trumpets, bass chorus, but somehow no whistling. It gave supporters of the Vietnam War a chance to stand with America's best, those trained to live off nature's land, trained in combat, hand to hand! Powered by patriotism and Sadler's manly voice, "Ballad of the Green Berets" spent five weeks at the top of the charts and was the Number One song for the year. Let's just say when we named our Music in American Life series back then, the emphasis was on American.
This UIP classic traces Sadler's meteoric career, from his brilliant first flash of achievement—toppling Nancy Sinatra from atop the Billboard Hot 100—to his unfortunate and instant descent into being a bankrupt relic of a very weird era. The original print run also included an ALL-VINYL boxed set featuring 121 versions of Sadler's greatest hit. In addition to demos, alternate takes, Ray Stevens's cover, and all the dance versions, you got the scintillating Moby remix that took Coachella by storm, PLUS a collectible booklet that covered Sadler's lasting influence on the alt-spoken word scene and explained FOR THE FIRST TIME the DETAILS of his 1989 shooting during a Guatemala City booze-up, subsequent airlift to freedom by Soldier of Fortune magazine, and the theft of his comatose body.†
Handbook for the Recently Deceased, by Marion Blusters
Talk about the ultimate travel guide. Handbook for the Recently Deceased offered readers tips on how to make the most of those all-important first days in the afterlife. Marion Blusters drew on detailed ethnographic work and his own experience of being struck by lightning nine times to guide us all into the white light. Judgment lasts for eternity. Why face it unprepared? Also included a workbook and pennies to place on your eyes. I had high hopes for this lost title—even the dream of a reprint crossed my mind—when I first glanced at the cover. Alas, a second look made it clear the couple were not watching the approach of the flying saucers that ferry us to the Great Beyond.
† True story.