This is the sixth post of a multi-part series by Fran Markowitz—author of the new book Sarajevo: A Bosnian Kaleidoscope—on her recent trip to Sarajevo and Banja Luka, Bosnia-Herzegovina, August 23-31, 2010.
****
Monday, August 30th
My Last Full Day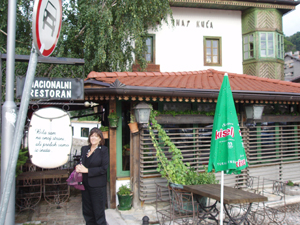 And it was certainly full! I went back to see Amila in her History Department office. She and her husband arrived later than we had arranged because they had taken their time with the pre-fast morning meal. This time we talked about family; unfortunately Amila's mother, who had more than once triumphed over cancer, was not in good health. Her dad continues to enjoy mountain hikes and is often accompanied by his grandson as he gathers herbs and mushrooms. Amila has dreams of a flower-covered cottage in the Sarajevo hills, but for right now, she, her husband and their daughter share an apartment of their own in her mother-in-law's house. Her immediate goals are to learn to drive a car, and to take yearly vacations to the capitals of Europe. And, of course, to work on her PhD, and live her life.
Just as I was about to take my leave, I remembered that Asja M had completed her doctorate and was also working at the university. A few years back she became an asistent, and then, with the help of a Fulbright scholarship, went to the US for doctoral research. After she completed the PhD Asja was appointed a docent.
Asja's office is just a few doors down from Amila's, and I was lucky to find her there. In twenty minutes she and her assistant were scheduled to proctor an exam. We ran across the street to the Holiday Inn for coffee and a fast and furious chat. Asja married some years ago–her husband is a prof of comparative literature—and they have a little daughter. She laughed recounting how she wrote her dissertation on a laptop computer when confined to bed rest during the pregnancy. Things are fine, even good; with their two salaries. But they are in no rush to have another child; that would be hard. We talked about mutual acquaintances, and Asja said that of everyone we know, Amila has changed the most of all. Was this because there are traditionally religious people in her family? No, I told her, quite the opposite. Amila's parents are secular socialists and fervently miss the bratstvo i jedinstvo of Yugoslavia (p. 185). Asja ran back across the street while I lingered over my coffee, thinking about Amila and the mixed-ethnic boyfriend she had had in 2004. I hope that she is happy with her husband and the life-style decisions she has made.
I slowly walked back to the city center where I decided to have another look at the Museum of the City of Sarajevo that used to be the Museum of the Assassination, which I visited last in 2008 (p. 44-45). On the way I passed by a huge construction site, which when complete will be a luxury shopping mall and the Sarajevo Grand Hotel, all funded by the Al Shiddi Group.
A little after three p.m. Melisa and I met up on the Latin Bridge, also known as the Princip Bridge, where a monument once stood commemorating the 1914 assassination of Austrian Prince Franz Ferdinand and his wife, Princess Sophia. Now the stone near the bridge is unrecognizable as a monument and the assassination is portrayed as a terrorist act, not the brave deed of freedom fighters. Melisa and I embraced and began talking at once. We walked along the river eastward to the Inat Kuća, a privately owned "national restaurant" that serves regional dishes in a traditionally decorated Bosnian house with its own unique story (pp. 107-8, 157-8).
What Melisa then had to say to me was, I must admit, the high point of my entire visit. She told me that she had read just about all of Sarajevo: A Bosnian Kaleidoscope and loved it! Answering Greta's critique that the book is too optimistic, Melisa said that that is one of the reasons why she loves it. Unlike most commentaries on Bosnia, the book is not overly pessimistic; it is balanced. She also commented favorably on how different people tell their stories and that, instead of disappearing from the text, I integrate myself into it. She especially liked the second chapter about the Å¡etanje and Sarajevans' stories of place. I could feel tears of appreciation and relief well up in my eyes. But we were enjoying our food and each other's company, and there was no cause to weep. So, I said, enough about me, let's talk about you!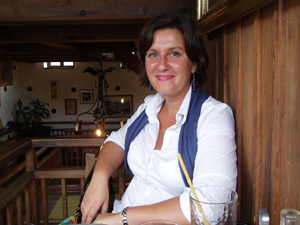 And we did. Melisa is a brilliant and passionate historian with creative ideas that she puts into practice at her job at the Academy of Arts and Sciences, in her MA thesis, in her planned doctoral dissertation, and in the extraordinary history textbook that she wrote for sixth graders. It hasn't been easy to cope with some of the inequities in the academic system, but Melisa is an optimist and uses every tiny opportunity to advantage. She has been a key player in organizing a BiH-wide association of history teachers that has revitalized the way the subject is presented to elementary and high school pupils. And she co-edited a textbook for seventh graders that introduces them to the beliefs, everyday practices, lifecycle rituals and yearly holidays of Bosnia's four Abrahamic religions, Judaism, Catholic Christianity, Serbian Orthodox Christianity, and Islam.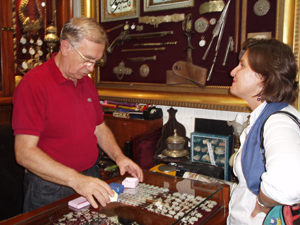 After a long and leisurely meal I asked Melisa to come with me into the BaÅ¡Ä?arÅ¡ija because I had decided to buy silver filigree butterfly pins for some close friends. We entered her favorite shop, looked around at all the beautiful objects, had a pleasant conversation with the owner, and closed the deal.
My next and final stop of the evening was to meet with Renata and her baby at a famous pastry shop in Grbavica called Palma. Melisa was to connect with her soon-to-be-married friends. Last week she accompanied the bride to shop for a dress; now they were going together to a wedding cake specialist. We talked about our families and our travels as we waited for the couple to come by in their car. We piled in, they dropped me off, and, with difficulty, I said good-be to Melisa.
But then there was Renata and her tiny baby, Vedran. She reminded me that the last time we saw each other in 2008 had been just a couple of days before her wedding. Now I was meeting her 2-month old son. As Renata talked about the miracle of his birth she looked radiant. We sat for hours in the deliciously smelling shop as sheets of rain fell outside. Finally Renata's husband arrived to pick us up. We made a dash for the car; they brought me back to my pansion, and after unwinding, I fell asleep in the satisfaction of a long day with wonderful people. My farewell-to-Sarajevo visit was coming to an end.