Authors. Conversations. Books (lots of books). Dogs with bandannas. It's time again for the Printer's Row Book Fair, now in its 33rd Year as a Chicago Loop perennial. Skies promise to be as sunny as the faces staffing the booths.
Your University of Illinois Press will as usual present its latest books, plus stacks of favorites we have published over the last ninety-nine years of existence. The fest also presents us with a chance to make a dry run at next year's celebration of our Press centennial.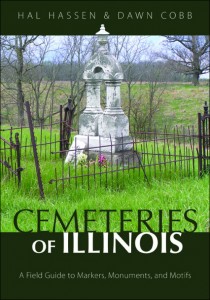 In the meantime, members of the UIP Outreach Flying Squad, also known as the marketing department, stand ready at our always welcoming booth. Just look for Tent EE on Polk Street. While we're not as funny as Printer's Row speaker Al Franken, we will answer your questions and, if you are so moved, sell you some books, for instance our great new release Cemeteries of Illinois, the captivating and informed reference on the subject. Authors always drop by to chat about their books—or books, period.
As for official author signings, longtime Chicago observer Dick Simpson will sign his always-timely Corrupt Illinois from 12 noon to 1:00 p.m. on Saturday, June 10.
From 1:00-2:00 p.m. on Saturday you can meet Lex Tate, coauthor of our new release An Illini Place: Building the University of Illinois Campus.
At 3:30 on Saturday, Printer's Row stalwart Brian Dolinar will spend an hour signing and chatting about The Negro in Illinois: The WPA Papers.