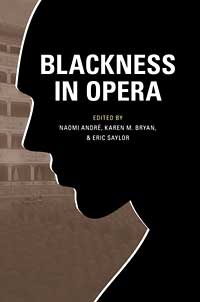 On March 26, 2012, we published Blackness in Opera, which examines the intersections of race and music in the multifaceted genre of opera.  The collection's editors, Naomi André, Karen M. Bryan, and Eric Saylor, collectively answered questions about their new book.
Q:  What are some of the issues that arise with the characterization of blacks in the opera?
Editors:  Many of them have to do with misconceptions on the part of white composers, librettists, and/or directors on how black people sing, speak, and behave—in our collection, Gwynne Kuhner Brown addresses this topic in her essay "Performers in Catfish Row: Porgy and Bess as Collaboration." The assignation of certain stereotypical behaviors, speech patterns (especially pidgin dialects), or personality traits to black characters may not have been motivated by maliciously racist intentions, but institutionalized racism certainly shaped white creators' approach to black characters and cultures for a very long time. Operas written after the Second World War are less subject to such problems (though not without them), and the increase in color-blind casting since that time has also  helped mitigate the historical elision of black performers from the opera stage.
Q:  What sorts of roles would be given to black performers as opposed to whites?
Editors:  With a handful of exceptions prior to the late twentieth century, black performers really didn't have any expectations that they would be "given" roles in operas. There were all-black companies that mounted performances of standard operatic repertory, but they were formed in recognition of the closed doors black singers typically faced at major opera houses. As for black characters, they typically fall into one of two
categories: more or less indistinguishable from the average white protagonist, or introduced as a means of infusing the opera with a veneer of exoticism, sometimes reinforced by the use of music derived from (or meant to evoke the imagined qualities of) black traditional, popular, or folk music.
Q:  What is "blackface" and how often was it used?
Editors:  Blackface is the practice of applying stage makeup to someone's face and body to make them appear to be black. This practice was associated with minstrelsy, a type of American popular theater that dates back to the 1830s where white performers would take burnt cork and blacken their faces while also putting a garish red paint on their mouths. Minstrelsy employed degrading stereotypes (e.g., the happy-go-lucky lazy Sambo or the hyper-sexualized Jezebel) that played into the way black people were seen and treated. The minstrel shows and use of blackface had an especially complicated legacy for black artists. Later in the nineteenth century opportunities opened up for black artists to perform, but through these negative stereotypes and the use of blackface; so black performers found ways to make money as professional artists (e.g., as actors, singers, and composers), but only if they participated in this demeaning practice.
Though our book focuses on how blackness and the specters of blackface and minstrelsy
haunt opera, the term blackface has also been adapted to refer to non-Asian singers/actors portraying Asian characters ("yellowface"—an operatic practice frequently used today in productions of Puccini's Madama Butterfly and Turandot) or Latino characters  ("brownface"—such as the several white actors who portrayed the Puerto Rican characters in stage productions and the 1961 movie version of West Side Story) in modern productions.
Q:  When did blacks first develop a presence in opera?
Editors:  This is a complicated question because for so long, black performers were not supported in the institutions that paved the way for opera performance. Segregation kept blacks from attending conservatories and, if singers were able to study privately, opera companies were closed to black performers. However, there were a few all-black opera companies along with impresarios, archivists, and scholars who had a vision to support blacks in opera and this history is still being collected and documented. In fact, Karen Bryan (one of our co-editors) is helping to write this history; she is working on a book
about Mary Caldwell Dawson, a black singer who founded the National Negro Opera
Company in 1941 that ran for nearly 20 years.
Black opera singers were definitely present in the nineteenth century. Two of the best
known examples are Elizabeth Taylor Greenfield (c. 1819-1876) and Matilda Sissieretta Joyner Jones (c. 1868-1933). Though born into slavery, Greenfield (who became known as the "Black Swan") was one of the early black prima donna singers. She toured throughout the US and in England (she sang for Queen Victoria in 1853). Since there were no operatic venues for her, she performed as a concert singer. Sissieretta Jones who was called the "Black Patti" (after famed Italian coloratura Adelina Patti) also had a remarkable career; she sang in the US, England, and the West Indies, as well as being invited to sing at the White House (1892) and the World's Columbian Exposition in Chicago (1893). A musical troupe formed around her, the "Black Patti Troubadours," a vaudeville company that featured operatic music as well as popular music that fit the tastes of the time.
Though I mentioned that the history of black singers and institutions in opera is still being written, there are several good sources out there that begin to flesh out this story. Among the best on this topic are: Eileen Southern's The Music of Black Americans: A History,
Rosalyn M. Story's And So I Sing: African American Divas of Opera and Concert, and Wallace Cheatham's Dialogues on Opera and the African-American Experience.  Two videos also stand out: Porgy and Bess: An American Voice (James Standifer, in addition to information about this opera there are great interviews with singers) and Aida's brothers & sisters: black voices in opera (a film by Jan Schmidt-Garre and Marieke Schroeder). A terrific website is AfriClassical.com, a site that focuses on African heritage in classical music.
Q:  What is the status of that presence today?
Editors:  We are definitely in a time where there are black singers, composers, scholars, and opera companies in existence. However, the strength of this presence is precarious and needs to be nurtured. A long-standing problem is that while black women have had the most success as singers in opera (and it is not like there is an over-abundance who have made it to the top at any given moment), there are fewer black men who have been able to break into this profession.
There have been stellar examples of black male singers sprinkled among the operatic elite: Todd Duncan, George Shirley (a contributor to this collection), Willard White, Simon Estes, and Gregg Baker are among the best known. At this moment we have Lawrence Brownlee and Eric Owens who are singing at the top houses and to have two black men at the same time—sadly, that is a lot! There is much room for improvement here. In terms of the women, after Marian Anderson, the superstars include Leontyne Price, Shirley Verrett, Camilla Williams, Grace Bumbry, Martina Arroyo, Jessye Norman, and Kathleen Battle. Singers today include Denyce Graves, Angela Brown, Marquita Lister, and many others. Pretty Yende, a Zulu opera singer is currently on the roster at La Scala and represents the vast operatic talent coming out of South Africa.
We also have many wonderful black composers who are writing operas and they have had a terrible time getting the support to mount their works. In addition to Anthony Davis, perhaps the best-known living black opera composer (X, The Life and Times of Malcolm X, 1986; Under the Double Moon, 1989; Tania, 1992; and Amistad, 1997), there are several other living black composers who have written and produced operas (Tania León, The Scourge of Hyacinths, 2001; Richard Thompson, The Mask in the Mirror, 2012, just to name a few). There are also non-black composers writing about black subjects. Richard Danielpour's Margaret Garner (with the libretto by Toni Morrison) premiered in Detroit in 2005 and was co-produced by the Cincinnati Opera and the Opera Company of Philadelphia. Recently Daniel Sonenberg finished his opera, The Summer King, about Negro Baseball League baseball player Josh Gibson. Opera is popular now and I am thrilled to be hearing of more projects in progress that incorporate issues around blackness by black and non-black composers.
Q:  What are some of the more prominent operas to feature blacks?
Editors:  There's a distinction to be made here between operas that feature black characters, and those that cast black singers in specific roles. George Gershwin's Porgy and Bess is the best-known example of the latter, in no small part because the Gershwin
estate stipulated that only black performers be cast in the roles. (Other operas that have typically reserved roles for black singers include Scott Joplin's Treemonisha and Virgil
Thomson's Four Saints in Three Acts.)
There are several well-known operas that feature black characters—including Verdi's Otello and Aida, Ernst Krenek's Jonny spielt auf, and Mozart's Die Zauberflöte—but in these, as well as many lesser-known operas with black characters, it was historically quite common for the roles to be played by white singers in black makeup, rather than by black performers; in fact, it is still a practice that goes on today.
Q:  Who are some of the most prominent black figures in opera?
Editors:  In the second half of the twentieth century, most people look to Marian Anderson's career as reflecting the larger barometer of attitudes about race and opera. Though she was denied the right to sing in Constitution Hall in 1939 (owned by the Daughters of the American Revolution), through the support of First Lady Eleanor Roosevelt, who resigned from the DAR in protest, Anderson sang on the steps of the Lincoln Memorial to a crowd of 75,000. In 1955, Anderson was the first black person to sing at the Metropolitan opera. She appeared in the role of Ulrica (interestingly, a Creole
fortuneteller medium) in Verdi's Un Ballo in Maschera.
However, regarding the prominence and importance of supporting black people in opera, this list needs to be extended to include those involved with the production of opera: Black directors, coaches, upper level administrators in opera companies who are hiring black singers, agents, and dedicated teachers (some of whom are opera singers themselves), and opera institutions that are dedicated to producing works by black composers and hiring black singers in all of their productions. Finally, we need to include scholars (including the contributors to this collection!), librarians, and archivists who are helping the preservation and documentation of the black presence in opera from the past into the present and future.