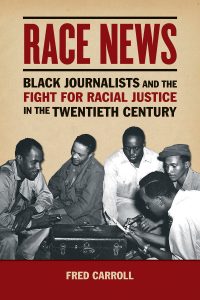 The 2018 AEJMC History Division Book Award, honoring the best journalism and mass communication history book published in 2017, has been won by Fred Carroll for Race News: Black Journalists and the Fight for Racial Justice in the Twentieth Century.  Carroll is a lecturer in the Department of History and Philosophy at Kennesaw State University, where he teaches courses in U.S. history and African-American History.
A panel of three distinguished media historians chose Race News from a field of 29 entries.  Race News is an exhaustive archeological dig that reveals the ways that ideological, political, and commercial dynamics of progressive politics shaped how black journalists reported news.  The judges praised Carroll's scholarship and accessibility, saying that Race News "should appeal to anyone with an interest in black culture, dissident and mainstream journalism, and the social and political forces that shaped the American Century."
Carroll, who will receive a plaque and a cash prize, has been invited to speak about his work during the History Division members' meeting on Tuesday, August 7 from 6:45 to 8:15 p.m. at the Association for Education in Journalism and Mass Communication convention in Washington, D.C.
Congratulations Fred!
Celebrate with us! Get this award-winning book for 30% off!
Use Promo Code CARROLL30 through May 15!