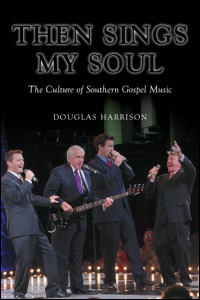 Douglas Harrison, author of the recent University of Illinois Press book, Then Sings My Soul: The Culture of Southern Gospel Music, is the subject of a new Religion Dispatches Q&A.
*****
Anything you had to leave out [of the book]?
The biggest—and most painful—surrender I had to make was on direct citations of songs.
I always knew this would be a problem, but not for the reasons it turned out to be. I thought there'd be resistance from traditional quarters of southern gospel when I asked for the rights to reprint lyrics. But I was refreshingly wrong; I had little trouble in this regard.
Instead, the difficulties came elsewhere. Some songs were just too administratively complicated to access. The chain of custody on many copyrighted but forgotten or unfashionable songs that no one sings or records any more can go cold easily, since no real money is at stake to keep a legal custodian's attention.
And the rights to even more songs were just too expensive. For this, we can thank hydra-headed corporations that have bought up thousands of songs and catalogs of songs and then turn around and charge licensing fees on comparatively obscure gospel music as if it were "I Will Always Love You" being licensed for The Bodyguard… Ok, I'm exaggerating a little, but the corporatization of cultural productions is not just frustrating; it potentially poses a serious challenge to a more comprehensive cultural studies.