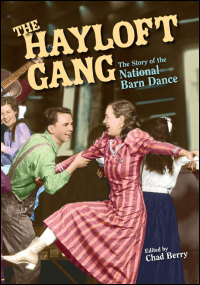 The National Barn Dance was the nation's most popular country music radio show during the 1930s and 1940s, predating the popularity of the Grand Ole Opry and serving as a precursor to the youth movement of that rose with rock and roll.
In The Hayloft Gang: The Story of the National Barn Dance, editor Chad Berry, curates the recollections and analysis of this national phenomenon with colorful commentary of performers and former listeners.
The story continues in the 2011 documentary film, The Hayloft Gang narrated by Garrison Keillor. The documentary weaves in performance footage, home movies, interviews and, of course, a lot of great music.
Central Illinoisans can see the documentary and meet producer-director Stephen Parry during the post-screening conversation at the Champaign Public Library. Parry is also a contributor to the UIP book.
The screening and director Q&A will be held Sunday, May 15 at 2pm.  The event is presented in partnership with the Illinois Humanities Road Scholars Speakers Bureau as part of the library's month-long tribute to the 1940s.