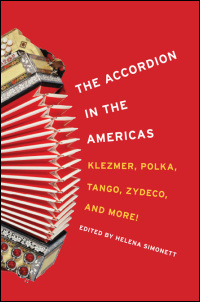 Following the critical success of Marion Jacobson's Squeeze This! A Cultural History of the Accordion in America, we are publishing Helena Simonett's edited volume The Accordion in the Americas: Klezmer, Polka, Tango, Zydeco, and More! The book includes chapters on accordion culture in South Texas, Columbia, the Dominican Republic, Brazil, and other locations in North and South America.
Library Journal published an early review calling The Accordion in the Americas "an excellent collection of ethnomusicology scholarship that will be of interest to those who like world music, ethnography, or unusual instruments."
The official publication date is October 29, 2012, but it can be ordered online now.