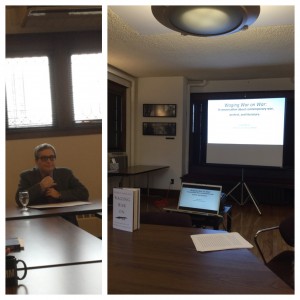 The Global Studies of the United States series, presents outstanding work by non-U.S.-based scholars who specialize in American studies.
One of those authors recently traveled to the United States (in fact the University of Illinois, Champaign-Urbana campus), to share a perspective of American studies from abroad.
On March 2, 2016 author Giorgio Mariani, professor of Literature and American studies at University La Sapienza Rome, was invited to campus to discuss his new book, Waging War on War: Peacefighting in American Literature, which investigates the anti-war literary genre and its impact on American culture.
Dr. Mariani is a leading scholar of American literature in Italy, and his talk "Waging War on War: Retrospective and Prospective Considerations" included a discussion of poetry and protest by Iraq War veterans. The talk was well-attended and followed by an engaged question and answer session and book signing.
The Global Studies of the United States series, is edited by UIUC professors Jane Desmond and Virginia Dominguez.
Thanks to the International Forum for U.S. Studies, the Department of Anthropology, the Unit for Criticism and Interpretive Theory, and the Center for Advanced Study for sponsoring the event.