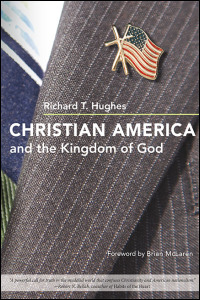 The Huffington Post has published Part Two of Richard Hughes's two-part commentary "Why Conservative Christians So Often Fail the Common Good." Part One has generated hundreds of comments.
"For almost forty years, the most visible representatives of the Christian religion in the United States have been conservatives, not liberals. I have in mind the electronic evangelists — those leaders of the Christian Right like Jerry Falwell, Jim Bakker, James Kennedy, Pat Robertson, and a host of others — who have been extraordinarily vocal about their vision of the United States as a Christian nation. Not once have I heard any of those preachers define the Christian religion in terms of either (1) peacemaking or (2) justice for the oppressed, the poor, the marginalized, and those who suffer at the hands of the world's elites — themes that are central to the biblical vision of the kingdom of God."
*****
Richard Hughes is author of the new book Christian America and the Kingdom of God.