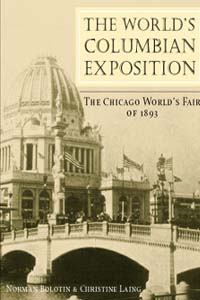 The Printers Row Book Fair is a great event. On two days in early June we display our new trade books, plus books with a Chicago focus, and sell directly to the consumer. It's rare that a customer seeks us out at the fair for a specific book. Most sales are impulse buys generated by the cover, the topic, the moment. This past Saturday and Sunday we averaged 1 item sold every 3.5 minutes with these titles leading the way:
The World's Columbian Exposition by Norman Bolotin and Christine Laing
The Indiana Dunes Revealed: The Art of Frank V. Dudley edited by James R. Dabbert with J. Ronald Engel, Joan Gibb Engel, Wendy Greenhouse, and William Gerdts
Folksongs of Illinois, Volume 3 (CD) produced by Bucky Halker
English in Print from Caxton to Shakespeare to Milton by Valerie Hotchkiss and Fred C. Robinson
Lincoln the Lawyer by Brian Dirck
The Chicago Marathon by Andrew Suozzo
Leopold and Loeb: The Crime of the Century by Hal Higdon
Though we experienced our best sales ever when the sun was shining, rain washed us out at 4:30pm on Saturday and 12:30pm on Sunday. On Sunday the rain was accompanied by high winds, lightning, and a tornado warning. We were told to take refuge in nearby storefronts until the weather passed. Drenched, we loaded the remaining stock on our hand cart and headed to the rental van for our 3-hour drive back to Champaign. Next year the supply list will include towels and a heavy tarp.