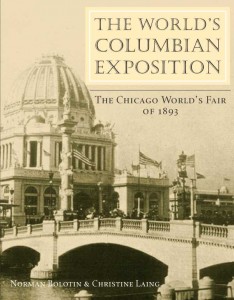 Today's post is from Breanne:
The Urban Simulation Team in the School of Arts and Architecture at UCLA employs real-time visual simulation technology to recreate scenes from The World's Columbian Exposition of 1893.
"Just as in 1893, the completed model will allow users to stroll along the virtual Court of Honor, tour the Wooded Island, and marvel at the fair's classical structures from a gondola."

Browsers can view brief video segments of the exposition's buildings, go on a virtual boat ride from the Court of Honor to the Fine Arts Building at dusk, or see static images of the exposition still under development.
For more on the 1893 exposition, check out UIP's The World's Columbian Exposition by Norman Bolotin and Christine Laing.
[Editor's note: And if you're a superfan of world's fairs, The 1933 Chicago World's Fair: A Century of Progress by Cheryl R. Ganz will debut in October.]