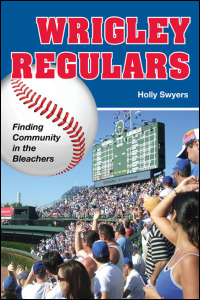 I interviewed Stephanie from Leftfield for Wrigley Regulars on July 10, 2005. We met for brunch at a place called Chicago Joe's on Irving Park Road, and we talked for a couple of hours over French toast and eggs and coffee. My objective was to get the story on The Bleacher Banter, the newsletter she produced for the regulars. Along the way, we talked about much more.
One of the stories she told me features prominently in chapter 9 of Wrigley Regulars, the story of her friend Ken who left the ballpark one day in 1992, went home, and died in his sleep at the age of 38. She was tearing up when she told me about Ken's death, saying, "I always thought I'd see him later." She worked hard that season to coordinate the regulars to have a bleacher memorial for Ken, and on the last day of the season, the event came off, highlighted by Andre Dawson's 399th career home run.
Stephanie came to sit in center field after the bleacher renovation of 2006, so I heard many more stories from her long history in the bleachers. She was just there May 28, watching the hapless 2010 Cubs get trounced by the Cardinals. She asked me when my book was coming out and made me promise I would sign a copy for her.
Stephanie died on June 2, 2010.
On Saturday, July 31, 2010, the regulars gathered for at a Wrigleyville bar to celebrate Stephanie's life. Many were freshly returned from Cooperstown, NY, where they had watched Andre Dawson get inducted to the Baseball Hall of Fame. Photos from two decades of bleacher life looped through slide shows on laptops, and stories were told and retold. The community assembled itself and bore witness to its existence and Stephanie's place in it.
I always thought I'd see Stephanie later, and in a way, in her memorial, I did. In her own words, in the book I never got to sign for her: "We're a part of something that's irreplaceable. I never thought I'd be a part of something like this, but here it is."
*****
Holly Swyers is an assistant professor of anthropology at Lake Forest College and author of the new book Wrigley Regulars: Finding Community in the Bleachers. The Houndstooth Saloon, 3369 N. Clark St, Chicago, IL, will host a launch party for Wrigley Regulars on September 9, 2010, 6:00 pm – 9:00 pm.