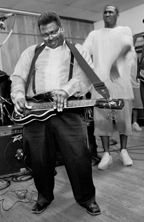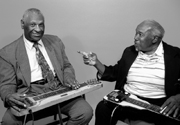 Sacred steel guitarist Aubrey Ghent will perform his soulful music at the American Folklore Society annual meeting in Nashville, Wednesday, October 13, at 8:00 pm. Aubrey is a master of the six-string lap-steel and powerful gospel singer deeply rooted in the Keith Dominion tradition. His uncle, Willie Eason, was one of the pioneers who introduced the instrument into the church's fiery worship services in the late 1930s. His father, Henry Nelson, played steel guitar for church meetings for more than half a century. Today, his son, A.J. Ghent, picks blazing pedal-steel much in the style of grammy-winning Warner Brothers recording artist Robert Randolph.
I will present "From Hula to Hallelujah: the Hawaiian Roots of an African American Steel Guitar Tradition" during conference Session 12-13, at 2:00 pm Friday, October 15.
My presentation will include several archival graphic images and audio samples that demonstrate a solid connection between this African American musical tradition and the Hawaiian popular music fad that began in the first decade of the twentieth century and continued into the 1960s.
*****
Robert L. Stone is an independent folklorist, musician, and media producer living in Florida. He has produced eight sacred steel albums for Arhoolie Records and directed the documentary video Sacred Steel for the Arhoolie Foundation. His new book is Sacred Steel: Inside an African American Steel Guitar Tradition.