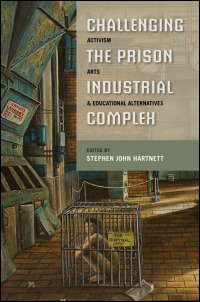 Stephen John Hartnett's edited book, Challenging the Prison-Industrial Complex: Activism, Arts, and Educational Alternatives, received one of the 2010 PASS (Prevention for a Safer Society) Awards from the National Council on Crime and Delinquency.
The book's essays offer an ideological and practical framework for empowering prisoners instead of incarcerating them. The collection also includes case studies of successful prison arts and education programs that provide creative and intellectual resources typically denied to citizens living behind bars.
Congratulations to Stephen and the book's contributors; Buzz Alexander, Rose Braz, Travis L. Dixon, Garrett Albert Duncan, Julilly Kohler-Hausmann, Daniel Mark Larson, Erica R. Meiners, Janie Paul, Lori Pompa, Jonathan Shailor, Robin Sohnen, and Myesha Williams.