On November 7, 2011, we will publish Sean Burns's Archie Green: The Making of a Working-Class Hero, which celebrates one of the most revered folklorists and labor historians of the twentieth century. Sean Burns is a teacher, musician, gardener, and leader of the Berkeley, California-based band Professor Burns and the Lilac Field. He discusses how he came to write the first biography of Archie Green.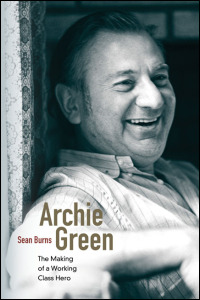 Q: When and where did you first learn about Archie Green?
A: In 2005, historian Paul Buhle came to UC Santa Cruz, where I was a graduate student, to speak about his newly released, graphic history of the I.W.W. To kick off the book event, Buhle introduced his long time friend and mentor, Archie Green. I had never heard of Green, but within moments he spellbound the crowd with vivid tales of I.W.W. organizing and poignant analysis of what the Wobblies should mean to the contemporary labor movement. I introduced myself to Green that afternoon. He encouraged me to come to his house in San Francisco for follow-up conversations. After a visit or two, and after discovering that no extensive study had been done on Green, I knew I had to write a biography on him. For months, I recorded Green's oral history, and those interviews became the backbone of this book.
Q: Why is Archie Green an important figure in American history?
A: Green was an indefatigable champion of workers' dignity, workers' stories, and the importance of workers' culture in a country that, for the most part, ignores and silences their voices. During his long life (1917-2009), from shipwright to professor to free-range cultural critic, Green found numerable, creative and politically effective ways to bolster our cultural appreciation for workers, and this profound body of work establishes him as one of the great 20th century public intellectuals. He is best known for his Herculean effort to help found the American Folklife Center at the Library of Congress, and the book places this success within the longer arc of his passionate commitment to document workers' culture in all its forms.
Q: What was the greatest challenge in researching the book?
A: Green's energy for life was boundless, and he poured it into his research, writing, organizing, networking, and advocacy for over seventy years. I couldn't tell you how many thousands of people's lives were directly inspired by his labors of love. His published and unpublished writings are voluminous. I knew early on that I was not in a position to speak to the full range of his accomplishments, but what I set out to do was critically piece together and examine the development of his political and intellectual life as a worker-scholar-activist with the hope that it will inspire additional, focused studies on his contributions to folklore, ethnomusicology, cultural studies, and history.
Q: Who should read the book?
A: Readers with interest in the cultural and social history of the United States in the 20th century; people aspiring to live a life of critical thought and creative action in the name of cultural pluralism and egalitarianism; anyone who has worked!
Q: Your book draws on significant interviews with Green. Tell us a funny story that came out of these sessions.
A: When Green returned to San Francisco from the Pacific front of WWII, he teamed up with other liberal veterans to build the American Veterans Committee. Green's main organizing partner at the time — we're talking 1946-49 — was Timothy Leary. Years later, when Leary had become an international symbol of psychedelic counter-cultural, the two occasionally crossed paths. Leary would encourage Green to "tune-in" but Green would insist that he was already tuned-in. It makes me smile to this day, to hear in my ear Green re-telling these encounters with Leary: "Tim, I am tuned in… and I'm not going in that spacecraft with you… "