Flammulina velutipes (Curtis) Singer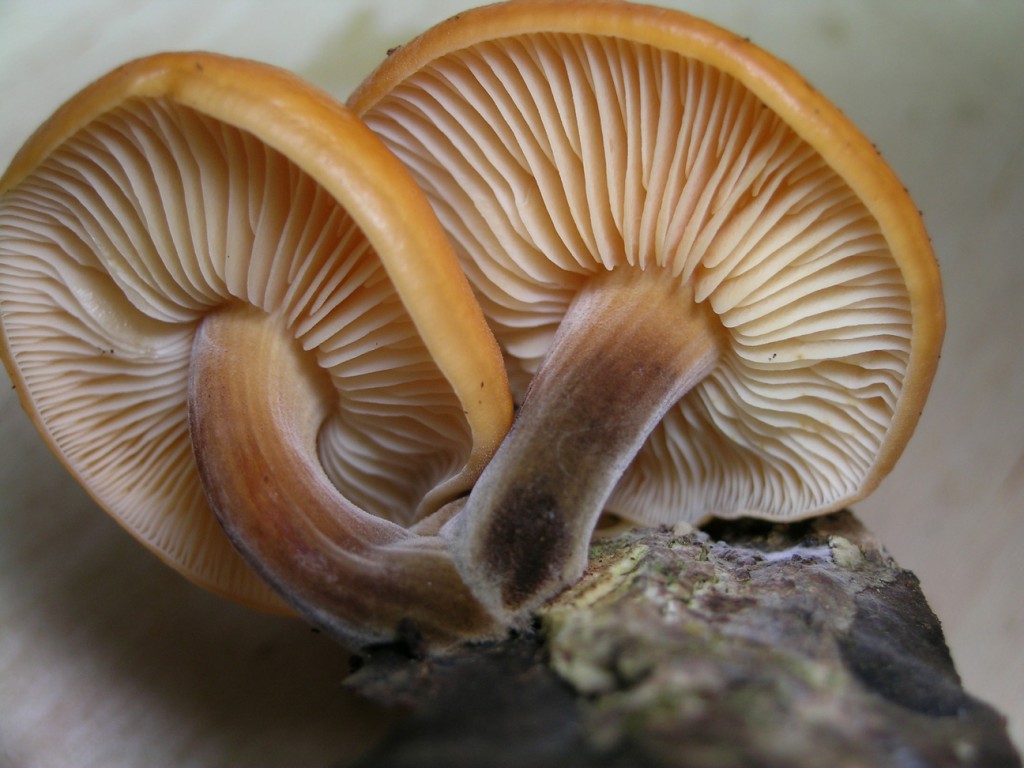 Edible, but tough. Despite appearances, the commercially produced "enoki" mushroom found in many grocery stores is a cultivated form of this mushroom.
One of the best-known and most-produced mushrooms in the world, Flammulina velutipes has a far-spanning career that includes appearances in forests, countless Japanese restaurants, and the labs of the space shuttle. F. veluptipes, nicknamed the winter mushroom (and also the velvet foot), makes the scene in late fall and under the right circumstances may grow throughout the cold months, even in such life-hostile January climates as Wisconsin.
In the wild, the velvet foot's color and texture ranges from resembling a kitschy orange vinyl souvenir to a rubbery shroom of reddish or yellow-brown. Boldly bald, F. veluptipes prefers hardwoods and may grow fairly high up on a tree trunk.
As mentioned above, the cultivated version of F. veluptipes is the enoki or enokitake mushroom familiar to lovers of Japanese cuisine. Farmed since at least 800 A.D., the enoki does not resemble its feral cousin in the least, thanks to being grown in the dark in a carbon dioxide-rich environment that encourages the growth of its telltale long stems. Asian folk belief attributes anti-tumor and other properties to the enoki, and a small body of scientific research does suggest the presence of anti-cancer and anti-oxidant compounds.