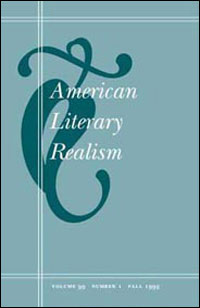 Among several of our journal titles to feature archival materials, American Literary Realism (ALR) focuses on works published between 1870 and 1910. An occasional challenge in working with this sort of research is the condition of illustrations. Not only were documents from this period not printed with the twenty-first century in mind; many of them, such as notices and advertisements, were never meant to last the year.
We do what we can to revive such illustrations by removing common artifacts like dirt, water stains, and creases — a sort of clarification — but I admit there is an aesthetic argument against doing this: that an illustration's weathered condition is part of its content. Typically, the research article in which the illustration appears does plenty to convey its time and place, and the better choice is clear presentation.
The Winter 2012 issue of ALR will include three illustrations, all accompanying Sarah T. Lahey's article, "Honeybees and Discontented Workers: A Critique of Labor in Louisa May Alcott." Here are the before and after versions of the illustrations. Too much? Not enough?