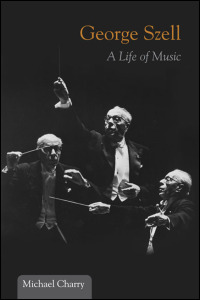 Michael Charry's biography of conductor George Szell has collected excellent review notices since its publication in late June.
"Charry examines Szell's personal life in greater detail than has been afforded before, with a trove of previously unpublished letters. . . . Straightforward and erudite."–The Wall Street Journal
"Musicians, concertgoers and general readers will be captivated by the author's behind-the-scenes look at what goes into shaping a world-class orchestra."–The Washington Times
"An excellent job of chronicling the everyday life of professional musicians."–HuffingtonPost.com
"Given the conductor's close identification with a symphonic orchestra, the extent of Szell's operatic experience may come as a surprise to some readers. Charry has done excellent work in illuminating this overshadowed facet of Szell's career."–Opera News
In November, Mr. Charry will deliver three pre-concert talks at the Cleveland Orchestra.
The Cleveland Orchestra
Severance Hall
Alan Gilbert, conductor
William Preucil, violin
BEETHOVEN Romance No. 2 for Violin and Orchestra
WEBERN Im Sommerwind
BRUCH Adagio appassionato for Violin and Orchestra
SCHOENBERG Pelleas and Melisande
Friday, November 11 at 8:00 p.m.
Saturday, November 12 at 8:00 p.m.
Sunday, November 13 at 3:00 p.m.
Mr. Charry's presentations will begin one hour prior to the Cleveland Orchestra concerts on those dates. The pre-concert lectures are free to ticketholders of that date's concert. He will also sign copies of George Szell: A Life of Music in the lobby during intermission and immediately following each performance.