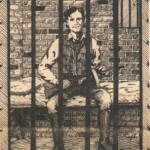 In book publishing we're busy talking about the need to expand our social networking efforts, to create online communities around books and authors, to consider content from the customer's perspective and build it from there. With absolute respect to the digital now, I still love stories about how printed books (p-books, y'all) connect people in real time.
Here is a recent message from author Jim Ballowe, whose Christmas in Illinois arrives later this year from UIP. Jim is writing to Gary Deneal, southern Illinois historian and editor of Springhouse magazine, about how Gary's book connected Jim with a stranger at a wedding in Turkey. You can't make this stuff up!
Ruth and I have just returned from a very good two-plus weeks in Turkey. After walking through a great deal of history and seeing face-to-face a rather fascinating culture, we attended the wedding of a nephew this past Saturday evening. At the wedding, which was on a boat on the Bosphorus, I had a conversation with a friend of the groom, a fellow from Austin, Texas. When he learned that I was from southern Illinois, he began to talk excitedly about A KNIGHT OF ANOTHER SORT, saying that he had read it twice and was fascinated by Çharlie Birger and your treatment of him. I thought you'd like to know that you have been extolled at the gateway to Asia. Oh, yes, he even remembered that I wrote the foreword to the edition he read. His mother-in-law, a professor of history, had given the book to him.
The book in question is A Knight of Another Sort: Prohibition Days and Charlie Birger –a classic of southern Illinois true-crime noir that I read in its first edition at my grandmother's house over 30 years ago. (I was also involved in the launch of the second edition while at SIU Press in the 1990s.)
From Illinois to the Bosphorus, and from a book that led to a conversation that led to an email that ended up on our blog, Facebook page, and Twitter feed: good stories live on.