In the most recent issue of The American Journal of Psychology, editor Robert Proctor announced a few changes: a new Associate Editor and History Editor!
Associate Editor
Incoming Associate Editor Jeanette Altarriba earned her M.A. and Ph.D. in Cognitive Psychology from Vanderbilt University and is a Professor of Psychology and Dean of the College of Arts and Sciences at the University at Albany, State University of New York (SUNY). Her involvement in The American Journal of Psychology includes serving as a Consulting Editor since 2012, a reviewer, and author of several articles.
One of these is "Emotion and Mood: Over 120 Years of Contemplation and Exploration in The American Journal of Psychology," an overview of some of the most influential articles in the history of the Journal and how those works shape the field's current explorations of emotion and mood.
"Taking an historical look through past issues of AJP helped me to realize more fully the progress of science and the ways in which what we do today is influenced by and inspired by the many great works of scholars in the field who came before us," said Dr. Altarriba. "Science is a productive field, and it helps to recognize the roots of our thinking today and the ways in which we do rest on the minds of others, as we move forward as researchers and forward-looking thinkers."
Dr. Altarriba also co-authored the following AJP articles: "Local and Global Task Switching Costs in Bilinguals Who Vary in Second Language Proficiency," "False memory in bilinguals: Does switching languages increase false memories?," "The Automatic Activation of Emotion and Emotion-Laden Words: Evidence from a Masked and Unmasked Priming Paradigm," "Word type effects in false recall: Concrete, abstract, and emotion word critical lures," and "Survival Processing in Recognition Memory: Separating Recollection From Familiarity."
Outgoing Associate Editor Richard A. Carlson is a Professor Emeritus of Psychology at Pennsylvania State University and earned his Ph.D. at the University of Illinois at Urbana-Champaign. He has served as the Journal's Associate Editor since 2015.
"I want to thank Rich for his dedication to AJP and his commitment to psychological science more generally. I appreciate the insightful advice and assistance he has provided to me during his time as Associate Editor," said Dr. Proctor in his Editor's Note. "The Journal has benefited greatly from his guidance to authors."
History Editor
AJP was founded in 1887 by G. Stanley Hall, the first person to receive a Ph.D. in Psychology in the U.S. and has published continuously ever since. (Fun fact: the University of Nebraska-Lincoln library is one of the journal's oldest subscribers, having subscribed the year of its founding!) As such, the Journal has a robust history of its own, in addition to covering the history of the field.
Professor Emeritus of History at Truman State University David K. Robinson joined AJP in late 2022 as the Journal's new History Editor. He earned his Ph.D. in History from University of California, Berkeley. Robinson has broad research interests in the history of science, having published work and taught classes on the topic. His training is in European intellectual history, but his organizational and editorial work has acquainted him with the development of psychology in North and South America, as well. Since the 1980s, Robinson has been an active member of the European Society for the History of the Human Sciences (ESHHS) and Cheiron: The International Society for the History of Behavioral and Social Sciences, which he led as Executive Officer for 6 years. Publications include works on Fechner, Wundt, and Vygotsky.
Dr. Robinson's shared some of his upcoming plans as the history editor:
"We have already started a project that features one of the first editors of AJP, Edward Bradford Titchener, and one of our past History Editors, Rand Evans, who died recently. Evans was in the process of writing a scientific biography of Titchener; we are bringing out parts of that unfinished work, planning a set of articles to appear in the next issues of AJP, perhaps over a few years if the plan goes well. We might even supplement the Evans series with further articles about Titchener or other important psychologists from his time, roughly 1890-1930."
There's more in the pipeline, but for now the focus has been on the transition and the Titchener material. Dr. Robinson added, "Of course, we also invite scholars to continue to submit their historical articles for review as they have in the past."
Previously, Cathy Faye had served as the Journal's History of Psychology editor since 2019. She is currently working as the Margaret Clark Morgan Executive Director at Cummings Center for the History of Psychology at The University of Akron and earned her Ph.D. from York University.
"History is a major component of AJP, due to its lengthy history, and I am grateful to Cathy for providing the Journal a strong presence in the history of psychology during her time as the history editor," said Dr. Proctor.
Find Out More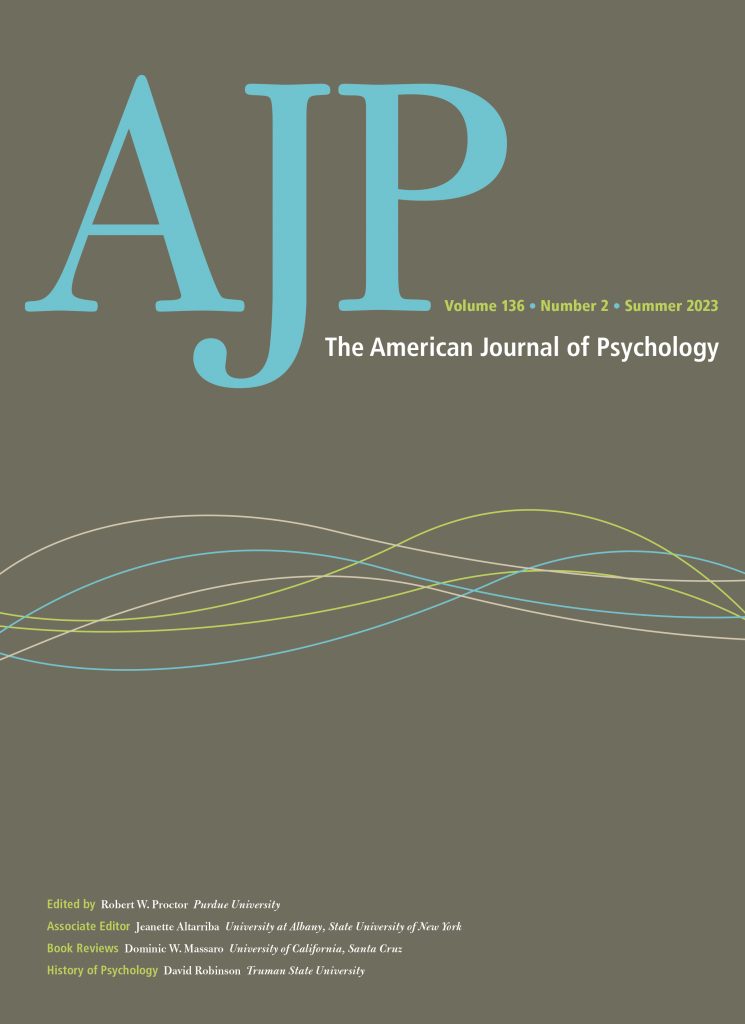 The American Journal of Psychology explores the science of the mind and behavior, publishing reports of original research in experimental psychology, theoretical presentations, combined theoretical and experimental analyses, historical commentaries, and in-depth reviews of significant books.
Individual subscriptions can be made through the University of Illinois Press website. 
To recommend this title to your library, fill out this Library Request Form and provide to your library via email or in person. Many institutional libraries also have an online form you can fill out on their websites.  
Ready to see your work featured in American Journal of Psychology? Submit original scholarly work here.