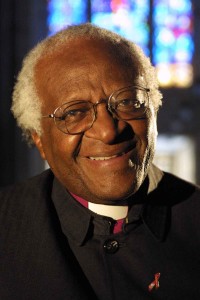 Archbishop Desmond Tutu has released his first major statement on animal welfare in the UIP book The Global Guide to Animal Protection.
In the Foreword of the Guide Tutu writes:
. . . . there are other issues of justice—not only for human beings but also for the world's other sentient creatures. The matter of the abuse and cruelty we inflict on other animals has to fight for our attention in what sometimes seems an already overfull moral agenda. It is vital, however, that these instances of injustice not be overlooked.
The Global Guide to Animal Protection is edited by Andrew Linzey, who is a member of the Faculty of Theology at the University of Oxford and director of the Oxford Centre for Animal Ethics and is Coeditor of the Journal of Animal Ethics.
Top photo credit: Benny Gool, public domain, Wikimedia Commons.