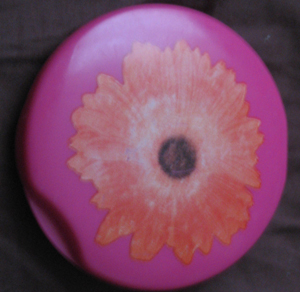 The page proofs of Feminist Technology were ready in time for me to give the book a trial run in my spring course, Women Leaders/Feminist Entrepreneurs. As anticipated, the students really connected with the material. Always keen discussants, they were exceptionally animated and engaged with the chapters on tampons, birth control pills, and home pregnancy tests, items with which they had personal experience.
In discussing the two-edged sword of being able to pass as a non-menstruating woman by using tampons, the discussion turned to similar issues with regard to the birth control pill. Before I knew it several of the students in this all-female class had whipped out their pill packs to illustrate the point. One student used an Ortho brand case which a flower on it which she explained was designed to look like a compact, i.e., to disguise the pills, and present them to the casual viewer as a makeup tool (something appropriately feminine) rather than a tool for non-reproductive sex (something for which one should/would feel embarrassed). A google search led me to an article by Dawn Stacey (2009) where I learned that my student's case was one of a line of "stylish pill compacts" developed by Ortho in 2002 "that allow women to be fashionably discreet while feeling at ease carrying pills on the go. . . . There are several designs, including limited editions by fashionista Nicole Miller, who is 'passionate about continuing to design fashionable compacts for the Pill since it allows women to feel confident and helps them live a more balanced lifestyle.'" One company, Cover Me Crazy, urges women to "Perk Up Your Purse!" promising that with their pill and condom covers "no longer will you have to be embarrassed about carrying your birth control pills or loose condoms in your purse."
There are two issues: 1) Does making a pill pack "fashionable" make them more or less feminist? And, 2) Does disguising pill packs as non-sexual tools make them more or less feminist?
*****
Linda L. Layne is the Hale Professor of Humanities and Social Sciences and a professor of anthropology at Rensselaer Polytechnic Institute. She co-edited the new book Feminist Technology.