When people ask me about life in a circus, all I can think is that it must be drafty in those tents. Fortunately for all of us, longtime circus performer Tiny Kline (1891-1964) provided a somewhat more detailed look at big top life. Circus Queen and Tinker Bell tells the story of the Hungarian-born performer as she moved from the burlesque house to the circus and beyond.
While work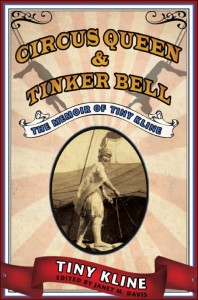 ing for the Ringling Bros. and Barnum & Bailey Circus, Kline became well known for her signature "slide for life" stunt, an "iron jaw" act in which she slid on a high wire—in the bonkers video above, she crosses Times Square—while dangling by her teeth from a trapeze bar. Kline renewed her spectacular acrobatics at the age of seventy when she played Tinker Bell in the "Fantasy in the Sky" fireworks show at Disneyland.
Extensively annotated by Janet M. Davis, this memoir documents twentieth-century changes in popular amusements while providing fresh insight into circus personalities such as John Ringling, acrobat Lillian Leitzel, and big cat trainer Mabel Stark, as well as mainstream entertainers like Florenz Ziegfeld, John Philip Sousa, and others. Kline also provides intimate details about the daily machinations at the circus, including fascinating accounts of its sexual politics, racial dynamics, risky work, and labor relations.