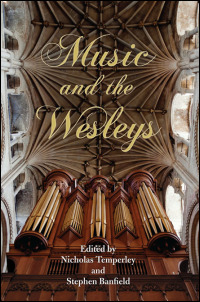 Nicholas Temperley, author of two University of Illinois Press books, will be honored by the North American British Music Studies Association with a July 28 concert at the University of Illinois' Krannert Center for the Performing Arts.
The concert will feature the Baroque Artists of Champaign Urbana, conducted by Chester Alwes; The Prairie Ensemble, conducted by Kevin Kelly; and Prairie Voices, conducted by University of Illinois Press Editor-in-Chief Laurie Matheson.
In Bound for America (2003), Nicholas Temperley's first book for UIP, he documents the lives, careers, and music of three British composers who emigrated from England in mid-career and became leaders in the musical life of Federal-era America. Music and the Wesleys (2010), co-edited with Stephen Banfield, examines more than 150 years of music-making tradition in England to provide new insights into the Wesley family and the fundamental importance of music in the development of Methodism.
More information on Nicholas Temperley and the concert can be found here.