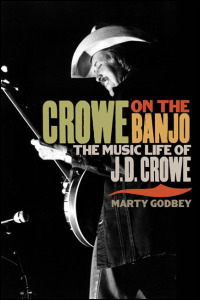 Marty Godbey's posthumous Crowe on the Banjo: The Music Life of J.D. Crowe arrived from the printer today. The publication date is September 26, 2011, but our distributor will begin shipping backorders soon.
The book—the first biography of Crowe—illuminates his long, distinguished career as he performed and recorded both solo and as part of such varied ensembles as Jimmy Martin's Sunny Mountain Boys, the all-acoustic Kentucky Mountain Boys, and the revolutionary New South, who created an adventurously eclectic brand of bluegrass by merging rock and country music influences with traditional forms.
Marty's husband, Frank Godbey, will appear on behalf of Marty at this year's Kentucky Book Fair in Frankfort on November 12, 2011. J.D. Crowe is planning to join Frank Godbey at the booksigning.
A short excerpt from the book:
Lexington's Holiday Inn North faces a section of interstate highway on which I-64 and I-75 run congruently; incomplete in 1968, both were nevertheless main arteries, heavy with north-south and east-west traffic. One of the largest and most elegant motels in Lexington at the time, the Holiday Inn's size and grandeur made it comparable to some of today's fine hotels, and its "Red Slipper Lounge" was a dark, mirrored cave, dimly lit by crystal chandeliers, with comfortable leather chairs and banquettes and a thick carpet. Sharing a wing and an entrance with the dining room, it was far from the main lobby, connected by halls lined with rooms.

The Kentucky Mountain Boys knew this job was unusual, especially compared to the places in which bluegrass music was usually played. Excited and a little nervous, they bought stage clothes for the first time: black and silver brocade dinner jackets they called "the slicks." Their forte was playing music, and they knew they played good music, but whether it would appeal to the uninitiated was a worrisome question. "It was way uptown for us and for bluegrass bands in general," Doyle observed.

"I was a little skeptical," J.D. said, "because I knew what had been in places like the Holiday Inn; they were more upscale than your regular bars. I was a little skeptical if it would even work." J.D. proposed taking on the job for three nights a week on a trial basis, and Winegardner said that was what he, too, had in mind. For J.D., the new venue signaled a career move of life-changing proportions:

Of course, they had plenty of time to advertise; they did a great job of that. Newspapers, radio, television, and they had brochures in every room, and in the lounge and the dining room, they had little folders on every table, and they did that, I guess, for six months. When we started, the first Thursday night it was full, and on Friday and Saturday night, it was packed—you couldn't get them in. I think we did that for about three weeks, and then he [Winegardner] approached me about signing a year's contract. Doyle Lawson was with me at the time, and we were both working a day job, and I knew that I, for one, could not play five nights a week and work from eight to five. I tried it for about a month, and it didn't work. So we looked at each other and said, "Do we want to do this, or do we want to work at Wilson Industrial Supply?" It was a good place to work, as far as work goes, but, we said, "Let's go for it!" So we gave our notice and went to the Holiday Inn.

"In 1968," Doyle said, "I quit my day job, and never went back to a day job. One thing [working at the Holiday Inn] allowed us to do was to concentrate on the music—we weren't getting rich, by no means, but we were able to give up the day jobs."

"The idea behind it was to make a living playing music," J.D. said, "but we didn't really know if it would work; we knew we could always go back to doing something else."

From then on, whenever they played, the Red Slipper Lounge was crowded with locals who had enjoyed them at Martin's and others who had been reluctant to go there. Serious bluegrass fans were cheek-by-jowl with the trendy young set who were ready to go anywhere "cool," and they made an enthusiastic audience that spilled out into the corridors. Distant fans planned stopovers at the Holiday Inn on their journeys, and others came for weekends just to hear the music.