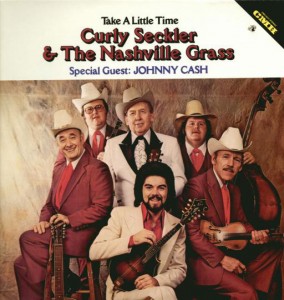 During the holiday break, we received the sad news that bluegrass pioneer Curly Seckler had passed away at the age of 98. "The greatest tenor singer of all time," said Marty Stuart, and indeed Seckler's vocal and mandolin work with the legendary Flatt and Scruggs outfit, as well as on his own and with Flatt in the Seventies, not only set the standard for every tenor singer to follow but provided part of the roadmap that bluegrass musicians have used ever since.
"I'm writing an obituary, but I basically already wrote it in advance," Penny Parsons, his biographer, told the News & Observer. "I anticipated it would just be too hard when things happened. It was a privilege to know him and an honor to be his friend."
In 2016, Parsons sat down for an interview on Mr. Seckler's life and music. [Here.] The same year she won Bluegrass Print/Media Person of the Year honors from the International Bluegrass Media Association for Foggy Mountain Troubadour, her biography of Curly Seckler.