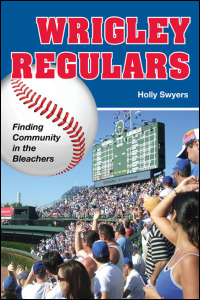 For the past three years my oldest son and I have played hooky in July or August to attend a weekday Cubs game at Wrigley Field. We typically park north of the ball park and walk south, passing an outfield entrance to the bleachers. We arrive early enough to see a long line of fans waiting to be admitted to the outfield stands.
In my many years as a Cubs fan I've wondered who buys the season tickets to sit in the Wrigley Field bleachers. Where do they work? Are they cityfolk or suburbanites? Do they sit in the same (general admission) seats every game?
Holly Swyers's new book Wrigley Regulars: Finding Community in the Bleachers offers insights to the above questions while also examining the interactions between these hardcore Cubs fans.
The Cubs have performed better since the All Star break, but I have a feeling that play-by-play announcers Len and Bob and Pat and Ron could be looking for some between pitch talking points to break up the losing baseball talk. Gentlemen, your gratis copies will be in the mail shortly.