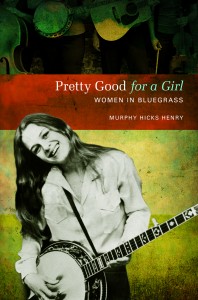 Born on July 23, 1971, Central Illinois native Alison Krauss has been awarded with more Grammys than any other female artist. The singer and fiddle player has put up sales numbers greater than any other living bluegrass act. Yet, as Murphy Hicks Henry writes in her book Pretty Good for a Girl: Women in Bluegrass, her career "initially caused great angst for any in the bluegrass community who didn't know whether to love her or leave her alone."
Krauss has been embraced by any number of audiences, no matter what to genre she has been marketed. When it comes to authenticity, her country music credibility was cemented when she became a member of the Grand Ole Opry in 1993.
In Pretty Good for a Girl, Henry writes about the beginning of the bluegrass superstar:
Alison's story begins with her family–mother Louise, father Fred, and older brother Viktor–living quietly in Champaign, Illinois. Louise and Fred took parenting seriously and put their two children into every program imaginable, including music. Violin was five-year-old Alison's choice of instrument, and she stuck with classical lessons until age eleven, when she started to chafe at the rigid confines of the music. Fiddle contests, with Alison began entering at age eight, offered the thrill of competition along with freedom from the printed page. Soon Alison was studying the music of the great contest champions like Randy Howard and Mark O'Connor, and bluegrass fiddler Stuart Duncan. She took first place at the prestigious Winfield, Kansas, fiddle championship in 1984 and by 1985 had added state championships from Illinois, Indiana, and Tennessee to her trophy case.