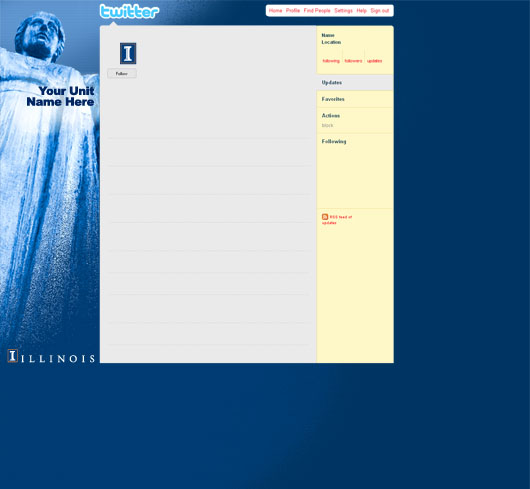 (Image above is a Twitter template available to University units.)
As part of my continuing education as a publicist for the Press, I attended a session on campus yesterday titled Brand U: 2010. One of the presentations featured the UIUC Office of Admissions' social networking strategy. I submitted an oral report of the afternoon's key lessons to my supervisor.
1. We can use a P-Card to purchase web advertising
2. We can hire unpaid UIUC student workers
3. Social networking: good. (See Harrisburg University's contrarian experiment here.)
She shared with me some recent social networking of her own. Her friend had posted an old picture on his Facebook page. My supervisor commented on the picture. A gentlemen with my same last name also commented on the picture. Magic! My brother and my boss—somehow both members of the same SIU Saluki tribe from the mid-80s—became fast Facebook friends and were swapping stories and expressing joy over the prospective pounding my Illini will receive on the football field this Saturday.
Can I go home now?