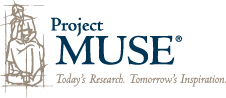 Project MUSE, a distributor of electronic journal content, will launch Project MUSE Editions in 2011 to sell digital monographs published by academic presses.
From the press release:
Project MUSE, a leading provider of humanities and social science periodical content for libraries, is very pleased to announce a new initiative to incorporate scholarly book content into its research platform and product offerings. Beginning next year, e-book collections will be available for purchase alongside MUSE journal collections, with an integrated discovery environment that allows for browsing and searching journal and book content side-by-side. . . . The e-books program, called Project MUSE Editions, has to date signed contracts with the following publishers to include in the new offering books from their upcoming scholarly monograph frontlists: Baylor University Press, Brookings Institution Press, ELT Press, Indiana University Press, Johns Hopkins University Press, Kent State University Press, Penn State University Press, Purdue University Press, and University of Illinois Press. Talks are ongoing with several other MUSE and HFS client publishers, with more participants expected to be announced before the end of this year.