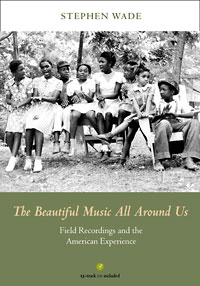 Visit us at the exhibit tables of the Amercan Folklore Society's annual meeting in New Orleans, LA beginning today. We will feature discounts of 30% on paperbacks and 40% on hardcover titles, with FREE domestic shipping on orders placed at the meeting.
There are likely to be sightings of folklorist, musician, and author Stephen Wade, who may stop by the University of Illinois Press's tables to sign copies of The Beautiful Music All Around Us: Field Recordings and the American Experience, available at the 40% discount.
We will also have information on our ongoing Mellon-funded project, Folklore Studies in a Multicultural World. Complete details may be found at www.folklorestudies.org. Funded by a generous grant from the Andrew W. Mellon Foundation, the series is a collaborative venture of the University of Illinois Press, the University Press of Mississippi, and the University of Wisconsin Press, in conjunction with the American Folklore Society.
So come by our tables and say, "Hello!"