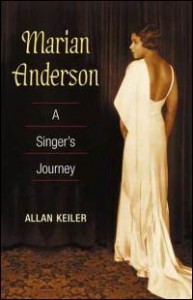 On January 6, 1955 contralto Marian Anderson became the first African American soloist to sing at New York's Metropolitan Opera. She appeared in the role of Ulrica (a Creole fortuneteller medium) in Verdi's Un Ballo in Maschera.
Born in 1897, Anderson's parents moved to Philadelphia from Virginia to escape the clutches of Jim Crow.
In the University of Illinois Press biography Marian Anderson: A Singer's Journey, author Allan Keiler documents the economic hardship and bigotry that Anderson had to overcome before vaulting to international stardom.
In a Q&A about the UIP book Blackness in Opera, collection editors, Naomi André, Karen M. Bryan, and Eric Saylor highlighted Anderson's importance in both art and the social history of the United States:
In the second half of the twentieth century, most people look to Marian Anderson's career as reflecting the larger barometer of attitudes about race and opera. Though she was denied the right to sing in Constitution Hall in 1939 (owned by the Daughters of the American Revolution), through the support of First Lady Eleanor Roosevelt, who resigned from the DAR in protest, Anderson sang on the steps of the Lincoln Memorial to a crowd of 75,000.
Anderson, who died in 1993, told her own story in the UIP published My Lord, What a Morning. Her autobiography (originally published in 1956) has an entire chapter devoted to the 1939 Easter 1939 concert at the Lincoln Memorial.