Two UIP titles are available in paperback editions today.
Charles Ives in the Mirror: American Histories of an Iconic Composer
Charles Ives was a virtual unknown in his lifetime. But in the 60 years since the composer's death he has become one of the most lauded composers in American music.
In Charles Ives in the Mirror, David C. Paul, tells the new story of how Ives's music was shaped by shifting conceptions of American identity within and outside of musical culture. Paul charts the changes in the reception of Ives across the twentieth century and into the twenty-first century.
Released in hardcover last year, Charles Ives in the Mirror was named a Choice Outstanding Title, 2013.
Gleanings of Freedom: Free and Slave Labor along the Mason-Dixon Line, 1790-1860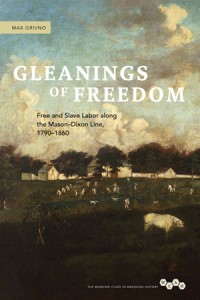 In Gleanings of Freedom, Max Grivno closely examines a handful of counties in northern Maryland and southern Pennsylvania in the late eighteenth and early nineteenth centuries. These rural local communities offer a unique perspective on how free and slave labor systems coexisted and interacted during a time when those practices were moving apart both geographically and ideologically.
Grivno studies the dynamic, multifaceted relationship between slave and free labor, the lives of free black and white farmhands, the domestic slave trade's impact on the people of the Upper South, and the struggles of enslaved and free blacks to liberate themselves and their families from bondage.