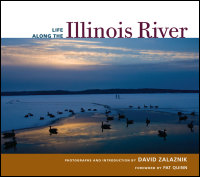 Once upon a time (November 2008) we published a serene photography book by David Zalaznik titled Life along the Illinois River. It contained beautiful images of a precious state waterway and featured a Foreword by public servant Pat Quinn. Mr. Quinn's name was familiar to the voters of Illinois, but unknown to the typical MSNBC viewer. All that changed in December 2008 when Illinois was plunged into a governing crisis by the revelations that then-Governor Rod "I've got this thing and it's (expletive) golden" Blagojevich (allegedly) tried to sell Barack Obama's senate seat. All of a sudden Lieutenant Governor Patrick Quinn was poised to succeed the troubled governor. In Quinn's foreword to Life along the Illinois River he wrote:
Since the very beginning of our state's history, the Illinois River has brought life to our communities, our economy, and our people. . . . But as the nineteenth century came to a close, the river that had brought prosperity to so many began to suffer from human thoughtlessness. . . . As the river waters grew shallower and dirtier, the river ecosystem dwindled. 'Wash days' in urban areas sent masses of gray phosphorous-filled suds floating downstream, while littered garbage and other wastes left the rivers and their banks odorous and unsightly.
I can't help but view Quinn's words about the decline of the Illinois River as a metaphor for the current political condition of Illinois. He continues:
Then the federal Clean Water Act of 1972 was passed, providing much-needed regulation of industrial pollution sources and beginning a slow but spectacular river renaissance. As water quality improved, many species of fish returned, and wetlands that had been barren welcomed renewed growth of native plants. . . . As the remarkable photographs in this book so clearly illustrate, the Illinois River valley has enjoyed a spectacular comeback. I hope you will enjoy this book—and more important, I hope it will inspire you to come and explore the rich cultural heritage and great natural beauty of Illinois River Country.
Mr. Quinn, thank you for your words of renewal. We look to you as the "Clean Water Act of 2009."